THIS BLOG IS OUTDATED. For more information on travelling to Sri Lanka post-covid (2022), please refer to this article.
After a devastating lockdown period of almost 2 months, Sri Lanka is now returning to normalcy by resuming civilian life while seeing positive time ahead with curfews relaxed and work-life getting back to normal and also salons, bars being opened as well. And yeah, travelling on your own with a tuk-tuk is not far away from reality.
What's the current COVID-19 situation in Sri Lanka?
The number of positive cases of Covid-19 seems declining or rather being contained to very low numbers even after the lockdown has been relaxed. Sri Lanka still remains strong as one of the countries that are effectively taking measures to control the spread of COVID-19.
As of 18th July 2020, 06:35 the number of total confirmed cases in Sri Lanka is 2,697 with 674 active cases (The latest spike in cases have been recorded from the Kanthakadu cluster, Health authorities confirm that it's there is no community spread yet.) and 2,012 individuals have already recovered and been discharged according to the Health Promotion Bureau of Sri Lanka.
Can I travel to Sri Lanka now?
As we see Sri Lanka and its people gearing up to get back to normal life, we are excited that travelling to Sri Lanka will also resume very soon than anticipated based on the official guidelines released by the Sri Lanka Tourism Development Authority (SLTDA). Even though the arrivals to Sri Lanka are restricted and on-arrival visas have been suspended until further notice, There are measures announced by the SLTDA for travellers to come to Sri Lanka as soon as the borders open.
UPDATE 5th JUNE 2020:
Sri Lanka is preparing to welcome travellers from across the world from August 1st, 2020 with safety guidelines and precautionary measures in place.
LATEST UPDATE 15th JULY 2020:
The reopening of Sri Lanka's Colombo International Airport for tourists has been delayed indefinitely (at least until early September) after repatriation flights were suspended due to a spike in Covid-19 infections last week at the Kanthakadu Quarantine Cluster.
Read Article: https://www.ttgasia.com/2020/07/14/sri-lanka-suspends-international-airports-reopening/
SLTDA has advised that it is mandatory to obtain an online visa before arriving in Sri Lanka, through the Electronic Travel Authorization (ETA) at https://www.eta.gov.lk/slvisa/ countries that were previously exempted also now require a prior approved online visa. Here is a summary of what has been mentioned in the official guidelines:
On-arrival visas will not be issued until an official announcement is made by the government of Sri Lanka.
Travellers to book tour packages online or via SLTDA registered travel agency prior to applying for the Visa.
Hotel bookings should be made with SLTDA registered and COVID certified hotel as a COMPULSORY pre-requisite for the Visa.
Compulsory pre-requisites for Visa:

Submission of health insurance
Valid return air ticket
Tour booking details/ Travel plan
Hotel/accommodation booking with registered accommodation as mentioned above

Negative PCR report or positive antibody test report taken two weeks prior to arrival in Sri Lanka to be uploaded with the visa application.
NOTE: The final version of the SLTDA official guidelines are expected to be released during the upcoming week. This Article will be updated in due time.
The Bandaranaike International Airport [BIA], Colombo Ratmalana Airport [RMA] and Mattala Rajapaksa Hambantota Airport [MRIA] will be operating for tourist arrivals from August 1st 2020. In Addition to the set of regulations mentioned above, SLTDA has announced further guidelines to be followed by the travellers upon applying for a Visa for Sri Lanka and arrival at the airports, as follows,
All travellers are required to apply for a visit visa via http://www.eta.gov.lk/slvisa/ and will be issued a 30 days visa with a fee of USD 100, which can be extended for up to 6 months after arrival.
Further relaxation on a long-stay visa is currently under consideration which would be granted as five-year multiple entry visa with a maximum 6 months stay.
Above mentioned compulsory pre-requisites for the visit visa remains the same.
A Negative PCR test not older than 72 hours is required before boarding your flight and on arrival in Sri Lanka.
Regulations on Arrival, Accommodation and Travelling:
PCR test will be conducted on arrival at any of the airports for which no fee will be incurred.
There will be no quarantine unless the traveller shows symptoms or in case of a positive PCR test quarantine in a designated hotel or hospital will be arranged based on the case details. Quarantine would usually be 14 to 21 days.
The current PCR tests take 24hours to provide the results. However, authorities are working on fast-tracking the process to 4 to 6 hours by August.
Due to the current timing required for PCR tests, authorities have provided a solution to select a certified 4 or 5-star hotel in Colombo or Negombo for one night stay while waiting for the test results. (it's unclear whether who bears the cost for the accommodation)
There will be a second PCR test done 4-5 days after your arrival in Sri Lanka by a mobile unit in coordination with the accommodation provided in the itinerary.
Travellers staying more than 10 days in the country will be subject to a third PCR test during their stay to ensure safety and peace of mind.
Travellers are advised to arrange transportation through their certified accommodation or travel agency prior to arrival since public transportation will not be provided.
All tourist attractions will be open for access from August 1st with intense safety protocols and measures while travelling between districts is freely permitted.
Official article by Sri Lanka Tourism
Are there any measures to be followed during arrival at the Airport?
Yes, there are strict protocols to be implemented at the Airport to ensure the health and safety of the travellers by SLTDA according to the already released guidelines,
Disinfection of passengers, luggage and travel documents will be done at the Airport.
Temperature checks and respiratory symptoms check to be done at the first entry point of the passengers.
PCR Test or Rapid test to be done on arrival and face masks are compulsory for passengers and all staff at the airport.
Immigration Counter:

Collecting the pre-check medical report, tourists' personal details and travel details.
Visa details with the last country visit to be updated.
Online registration of visitors on Sri Lanka Tourism travel website.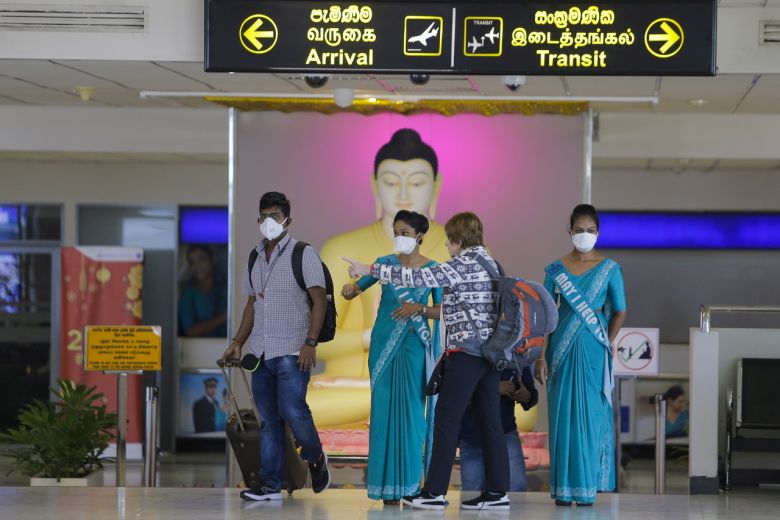 Pre-entry special counter by SLTDA briefing with local sim activation and documents with COVID19 preventive measures and procedures.
Disinfections procedures to be maintained at luggage handling, common areas, washroom facilities, trolleys and any other touchpoints of passengers along with sanitizers available in all areas.
Ensure social distancing of minimum 1-metre distance and encourage the use of self-checkouts, cashless or contactless payments systems to speed up the payment process and reduce cash handling.
What are the recommended accommodation options, Are they safe to stay?
Sri Lanka Tourism Development Authority along with the industry experts have devised a detailed operational guideline for the hotels and accommodations to maintain safety and hygiene along with an additional document collated by The Hotels Association of Sri Lanka.

SLTDA has advised travellers to Sri Lanka to book accommodation only with the SLTDA registered and COVID certified hotels as listed on their official website. SLTDA has also requested all guest houses, hotels and accommodations to immediately register with them and obtain an interim registration certificate in order to conduct operations.
Useful links on the lists of businesses, guesthouses, hotels and accommodation registered with SLTDA:
Will tuktukrental team help me plan my trip?
To provide a simple answer, Yes we will. We always go beyond our capacity to help our customers in any way that is required. Rest assured the team of tuktukrental is currently working on solutions to support our travellers with their itinerary, accommodation and any requirement given that the borders open soon for us to get on an adventure.
I am already in Sri Lanka,
How can I extend my Visa to stay further in Sri Lanka?
There are approximately 10,000 foreigners currently in Sri Lanka. Department of Immigration & Emigration in Sri Lanka has provided an extension of visas for the foreigners in Sri Lanka until 11th June 2020. However, officials have requested to get the visa endorsed on their passport by an appointment via https://eservices.immigration.gov.lk/vs with the office in order for them.
Even though there will be no overstay penalty on this extension the travellers are required to pay a country fee (differs) + LKR 15,000* as taxes according to fellow travellers who are in contact with us.
*Fees might differ from person to person based on their country of origin.
You can contact the officials directly with your case via
For visit visa:
For residence visa:
Telephone: 0707101050 (Between 9.00 a.m. to 4.00 p.m. only)
Can I travel to other districts on a rented tuk-tuk?
Currently travelling between districts to districts is completely restricted unless if you are travelling to work or essential services for which you need to carry relevant documents from the authorities (workplace, Police station).
However, according to our contacts and fellow travellers. there are possibilities for you to travel by private (SLTDA registered) taxi services who have obtained relevant certifications to carry passengers between districts which might come at a higher cost. Hence it is advisable to stay safe until the restriction is lifted (which is expected to happen very soon) and enjoy the island driving your own tuk-tuk.

UPDATE JUNE 5th: People can travel between districts on their vehicle since the curfew has been lifted islandwide. However, entering Colombo and Gampaha districts is still restricted only for essential work-related activities. Free movement will be effective from August 1st 2020.
How can I go back to my home country?
According to our sources and fellow travellers, there are fights being operated by several airlines on a scheduled basis in which Emirates and Etihad Airways have more delays or cancellations compared to Sri Lankan Airlines and Qatar Airways which are operating continuous flights to London, Tokyo (Narita), Melbourne, Hong Kong, Paris, Frankfurt, and Sydney. However, highly-priced and often getting cancelled or postponed with little prior notice due to unfortunate circumstances.it's advisable to have close contact directly with the airlines or an authorized travel partner or via the relevant embassy.
Useful Links for flights: