Where Kites Soar and Dolphins Play
Rent a Tuktuk in Kalpitiya, Sri Lanka!
Kalpitiya is a well-known location for its amazing 14 islands admiring environment. It is located in the Puttalam district towards the North-Western province of Sri Lanka. History reveals that the Kalpitiya peninsula was associated with maritime trade and smuggling escapades during ancient times. First colonised by the Portuguese in the 17th century and then taken over by the Dutch, the land was used as a strategic base for military purposes. Today, Kalpitiya attracts tourists worldwide, offering a blend of natural beauty, thrilling water activities, and cultural exploration. Visitors can explore the area's rich history, relax on its beautiful beaches, and even navigate the town and its surroundings in the traditional Sri Lankan tuktuk, adding a touch of local charm to their exploration.
Things to Do in and Around Kalpitiya
Explore the Hidden Gems in Kalpitiya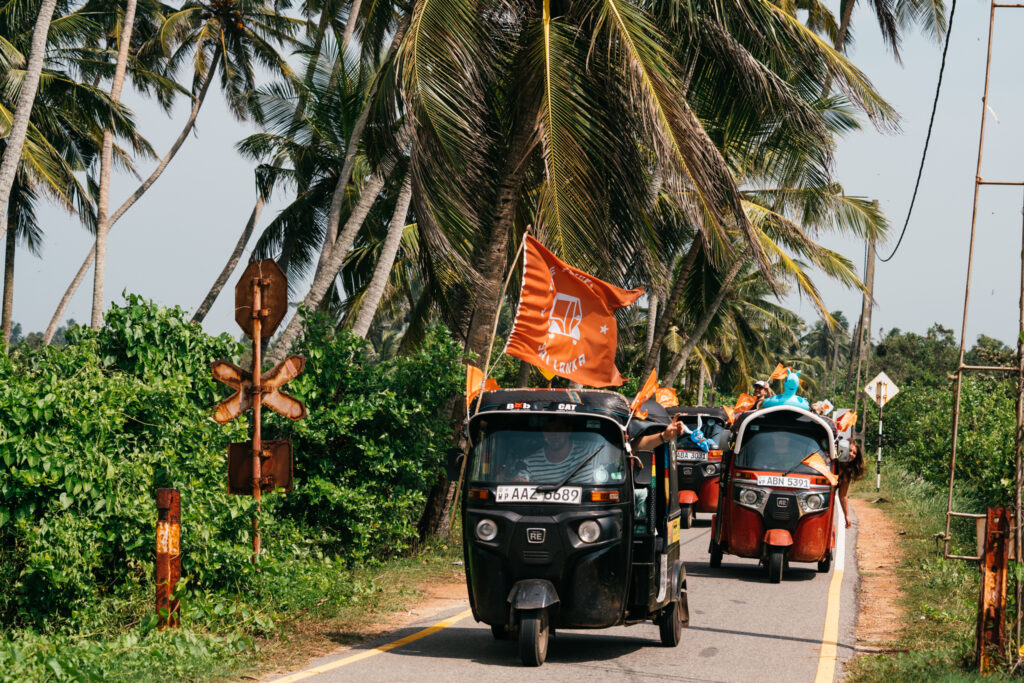 Rent a Tuktuk in Kalpitiya with Tuktukrental.com
Obtain Your Sri Lankan Recognition Permit from Kalpitiya
Driving a tuktuk in Sri Lanka requires a special recognition permit, and there are two ways to get this. Either with your "International Driving Permit / IDP" or your "Regular National Country Licence" with B/C endorsement (depending on your country where B/C is representing car) on it.
We can obtain your recognition permit from the AAC (Automobile Association of Ceylon) with any of the two. You will receive an email with the licence form where you can upload the documents, and we will have it ready at your pickup in Kalpitiya. You can read more information about the Sri Lankan recognition permit here!
Get Covered with Our Comprehensive Insurance
All our tuktuks come with comprehensive insurance covering damage to your tuktuk and other vehicles. It also covers personal injury to you, your passengers, and 3rd parties. Read more about the insurance coverage here!
Master Your Tuktuk: Get Comfortable Before Beginning Your Journey from Kalpitiya
We will provide you with an online briefing going over the final details, and we will assist you with your itinerary. Finally, receive comprehensive driving instruction before exploring paradise in your own tuktuk from Kalpitiya.
Why Choose Tuktukrental.com?
Renting a tuktuk is an exciting and unique way to see the country's gorgeous landscapes and immerse yourself in the local culture, especially around Kalpitiya. Consider factors such as reputable reviews, official business registration, SLTDA registration, correct rental insurance, safety and maintenance standards, transparent pricing, customer support, license requirements, training, and environmental practices when selecting a rental company. You can read further about it here!
Your safety is our priority. We provide proper rental insurance coverage, regular vehicle inspections, and dedicated mechanics for maintenance. Roadside assistance is available in case of emergencies. We believe in transparent pricing and offer reasonable rental conditions without hidden fees. Our commitment to clear communication ensures exceptional customer service and quick resolution of any issues. Since 2019, we have offset all our carbon emissions, supporting sustainable tourism and contributing to a greener Sri Lanka.
Consider these aspects when selecting a tuktuk rental provider. Enjoy the freedom of the open road and immerse yourself in the splendour of Sri Lanka. Let the adventure begin from Kalpitiya!
Things to See in Kalpitiya
Kalpitiya is the country's most popular kite surfing site; there are basically two seasons, the winter season from mid-December to mid-March and the summer season from May to October; nevertheless, both seasons are pleasant and dry, adding diverse wind directions to your journey. There are several kitesurfing schools in the region, such as Margarita Kite School and De Silva Kite School Kalpitiya. To experience the thrill of kite surfing in Kalpitiya, you can easily reach the popular kite surfing site by tuktuk and find the location here.
Kalpitiya is apparently the best place in Sri Lanka for Dolphin watching; they also have Whale watching in the area, but it is said to be better down south. To witness the beauty of dolphins in Kalpitiya, you can hire a tuktuk and join a dolphin-watching excursion to observe these magnificent creatures in their natural habitat.
Wilandagoda Aranya and Archeological Site
Wilandagoda archaeological site is a collection of caves on top of a hill, which makes for a beautiful sight and historical significance. This site is far away from tourism, on the borders of Wilpattu. To explore the fascinating caves and history of the Wilandagoda archaeological site, you can take a tuktuk to reach the site located on the borders of Wilpattu and find the location here.
A perfect military base and an ideal location to control the lucrative salt and cinnamon trades along with pear diving. This historic fort is surrounded by 14 islands which adds a different atmosphere. To immerse yourself in history and explore the Dutch Fort of Kalpitiya, you can hire a tuktuk, visit the fort, and experience the unique ambience created by the surrounding 14 islands. Find the location here.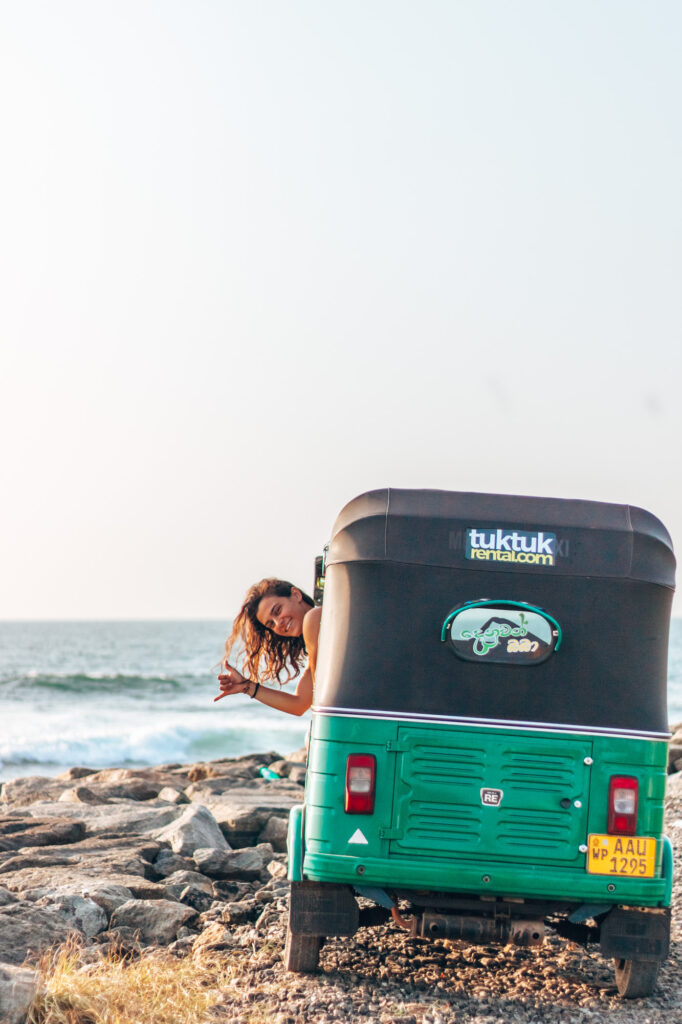 Sunset bliss in Kalpitiya – Stay spellbound by the breathtaking sunsets at the beach
Thalkawilla St. Anne's Church
No matter which religion you follow, St. Anne's church is one of the most ancient and wonderful of all Christian shrines in Sri Lanka. It is the epicentre of tradition and holiness. Pilgrims around the country visit the shrine during Christmas month to pray as one, and the view towards the Thalawila beach is indescribable. To visit the ancient and sacred St. Anne's Church in Thalawila, enjoy the beautiful view towards Thalawila beach, and easily reach the location by tuktuk, find the location here.
Taste the Local Flavours in Kalpitiya
Located in Puttalam, this restaurant serves delicious Sri Lankan rice and curry, and their friendly staff will help you in any way they can. To savour the tasty Sri Lankan cuisine at Coop City Restaurant in Puttalam, you can easily find the location and reach there by tuktuk. Click here to find the location.
A cosy and warm restaurant with amazing food. Wide variety of items on the menu, and many have rated this restaurant highly for its service. To enjoy the cosy ambience and delicious food at Coco Breeze Restaurant, you can take a tuktuk to the location. Find the restaurant's location here.
Windy Waves Beach Restaurant
A beachfront restaurant with freshly cooked seafood and many more. Reasonable prices to fit your budget. To indulge in the flavours of freshly cooked seafood at Windy Waves Beach Restaurant, you can rent a tuktuk and enjoy a beachfront dining experience. Find the restaurant's location here.
A welcoming and friendly café/ Fitness Camp where health and well-being meet delectable cuisine. Fuel your body with nutritious meals, smoothies, and snacks designed for athletes. Relax in a colourful and dynamic environment while enjoying a variety of healthy alternatives at The BNKR Fitness Camp. To visit The BNKR Fitness Camp and enjoy their nutritious meals and vibrant atmosphere, you can reach the location by tuktuk. Find it here.
Recharge at Comfortable Stays in Kalpitiya
Comfortable accommodation as villas and freshly cooked food for their guests in the restaurant, Araliya Retreat surrounds itself with a wonderful view. To experience the comfort of the villas and savour the freshly cooked food at The Araliya Retreat, you can rent a tuktuk to reach the hotel. Find the location here.
Kitelantis hotel structure is similar to the authentic Sri Lankan village houses. They are a 5-star hotel with great amenities to keep you comfortable. It would cost between $85 per night for two people. To enjoy a comfortable stay at Kitelantis and experience the charm of the Sri Lankan village house design, you can reach the hotel by tuktuk. Find the location here.
Sun Wind Beach Kite Resort and Kite School
This delightful 3-star hotel has wonderful cabanas and also a kitesurfing school. They have great and fresh food at their restaurant to cater to your needs. To have a delightful stay at Sun Wind Beach Kite Resort and explore kitesurfing at their school, you can hire a tuktuk and easily reach the hotel. Find more here.
This calm resort hidden by the lagoon will transport you to another world. Enjoy magnificent vistas, luxurious accommodations, and a calm atmosphere. Atara Lagoon Resort offers an oasis of refuge surrounded by nature's splendour. To immerse yourself in the calm and luxurious ambience of Atara Lagoon Resort, you can take a tuktuk to reach the resort. Find it here.
How to Get to Kalpitiya from Colombo
A Train Ride to Kalpitiya
You could take the train from Colombo Fort to Puttalam daily, as Kalpitiya has no station of its own. The journey would last for 4 hours and 30 minutes to Puttalam. From Kalpitiya, you would need to get a taxi to Kalpitiya. This can be arranged with a car rental company or via Uber or Pickme (Sri Lankan app), and it would take 1 hour and 30 minutes to Kalpitiya. Find the train timetable here.
From the Colombo Bastian Mawatha Bus terminal, you could hop onto a non-aircon bus to Anuradhapura (route 3-4 )and get down to Puttalam, which takes around 3 hours and 30 minutes. and you could take a taxi to Kalpitiya. To plan your route and check bus timetables, go to the official website of the Sri Lanka National Transport Commission (NTC).
You can also arrange a private vehicle and driver to take you via a rental car or use one of the apps named Uber or PickMe (a Sri Lankan app). This is the fastest but most expensive way to travel. It will take approximately 3 hours and 30 minutes from Colombo to Kalpitiya.
Rent a Tuktuk and Drive to Kalpitiya !
Travelling from Colombo to Kalpitiya in your own tuktuk is one of the most spectacular ways to appreciate the beautiful splendour and discover Sri Lanka's hidden gems. Renting a tuktuk provides an exciting experience, with the freedom to drive through fascinating routes and the option to pull over at any location that sparks your interest.
Head over to our online reservations system on tuktukrental.com. Select your booking dates, extras and enter your details. Continue to the payment section and enjoy riding a tuktuk in Sri Lanka.
Frequently Asked Questions
What should I know about renting a tuktuk in Kalpitiya?
Renting a tuktuk in Kalpitiya is a great way to explore the city at your own pace. You'll need a local temporary driving license, which we can assist you with.
Is it safe to drive a tuktuk in Kalpitiya?
Yes, it's safe to drive a tuktuk in Kalpitiya. We provide a driving lesson to ensure you're comfortable with the vehicle.
What do I do if I face any issues during my rental period?
We offer customer support throughout the rental period to assist with any issues that may arise.
How do I get my licence to Kalpitiya?
On your pickup day, one of our driving instructors will drive the tuktuk with your locally approved permit (licence) and the necessary documentation to your hotel, provide you with a comprehensive driving lesson and off you go, explore paradise!
Can I drop-off the tuktuk in Kalpitiya?
Yes, you can drop-off the tuktuk in Kalpitiya. You can check the pick-up and drop-off charges here!