Mirissa's Coastal Line Where Waves Dance and Memories last ever after
Rent a Tuktuk in Mirissa, Sri Lanka!
Mirissa and its beautiful sandy beach welcome you to a tropical paradise. The gorgeous beach and crystal-clear waters fulfil your fantasies of a perfect getaway. In high season, the beach comes alive with the energetic beats of DJs spinning pumping tunes, creating an atmosphere of celebration and excitement that lasts well into the night. Aside from the bustling party scene, Mirissa's main draw is its exceptional whale-watching opportunities. The town attracts nature enthusiasts from all over the world because it is known as one of the best spots to see gorgeous blue whales.
Embark on an exciting whale-watching trip and see these majestic creatures in their natural habitat, making memories that will last a lifetime.
Things to Do in and Around Mirissa
Unravel the Mysteries of the Mirissa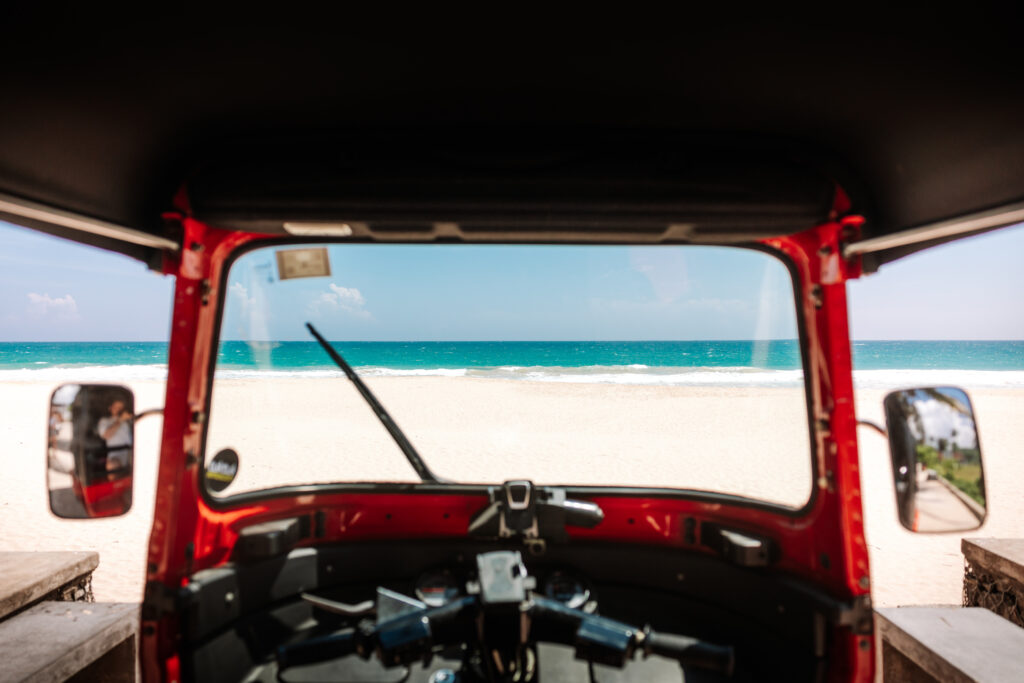 Rent a Tuktuk in Mirissa with Tuktukrental.com
Obtain Your Sri Lankan Recognition Permit from Mirissa
Driving a tuktuk in Sri Lanka requires a special recognition permit, and there are two ways to get this. Either with your "International Driving Permit / IDP" or your "Regular National Country Licence" with B/C endorsement (depending on your country where B/C is representing car) on it.
We can obtain your recognition permit from the AAC (Automobile Association of Ceylon) with any of the two. You will receive an email with the licence form where you can upload the documents, and we will have it ready at your pickup in Mirissa. You can read more information about the Sri Lankan recognition permit here!
Get Covered with Our Comprehensive Insurance
All our tuktuks come with comprehensive insurance covering damage to your tuktuk and other vehicles. It also covers personal injury to you, your passengers, and 3rd parties. Read more about the insurance coverage here!
Master Your Tuktuk: Get Comfortable Before Beginning Your Journey from Mirissa
We will provide you with an online briefing going over the final details, and we will assist you with
your itinerary. Finally, receive comprehensive driving instruction before exploring paradise in your
own tuktuk from Mirissa.
Why Choose Tuktukrental.com?
Renting a tuktuk is an exciting and unique way to see the country's gorgeous landscapes and immerse yourself in the local culture, especially around Mirissa. Consider factors such as reputable reviews, official business registration, SLTDA registration, correct rental insurance, safety and maintenance standards, transparent pricing, customer support, license requirements, training, and environmental practices when selecting a rental company. You can read further about it here!
Your safety is our priority. We provide proper rental insurance coverage, regular vehicle inspections, and dedicated mechanics for maintenance. Roadside assistance is available in case of emergencies. We believe in transparent pricing and offer reasonable rental conditions without hidden fees. Our commitment to clear communication ensures exceptional customer service and quick resolution of any issues. Since 2019, we have offset all our carbon emissions, supporting sustainable tourism and contributing to a greener Sri Lanka.
Consider these aspects when selecting a tuktuk rental provider. Enjoy the freedom of the open road and immerse yourself in the splendour of Sri Lanka. Let the adventure begin from Mirissa!
Mirissa Beach is a known tourist attraction recognized for its beautiful sandy beaches and crystal-clear seas. Visitors may unwind on the beach, swim in the ocean, or participate in water sports such as surfing and snorkeling. Don't miss out on Mirissa Beach's amazing sunset vistas. To reach Mirissa Beach, you can easily rent a tuktuk and enjoy a convenient ride.
Mirissa is well-known for its whale-watching possibilities. A whale-watching excursion allows you to see gorgeous blue whales, dolphins, and other marine species in their natural habitat. It's a fascinating and unique experience for nature lovers. To embark on an unforgettable whale-watching adventure, consider arranging a tuktuk ride to the whale-watching location. Read more here.
Coconut Tree Hill, one of Mirissa's most recognizable landmarks, provides a breathtaking view of the coastline dotted with swaying coconut palms. It's an ideal location for photography and taking in the panoramic views of the ocean and surrounding flora. To capture the stunning vistas from Coconut Tree Hill, rent a tuktuk for a quick and convenient journey. Find it here.
As the name implies, Secret Beach is a hidden treasure in Mirissa. Away from the masses, this isolated beach provides tranquility and solitude. Its tranquil seas and smooth dunes provide an excellent location for sunbathing and relaxing. To discover the secluded beauty of Secret Beach, hop on a tuktuk and navigate your way to this hidden gem. Find it here.
Mirissa is a surfer's paradise, offering steady waves for surfers of all abilities. Surf schools and board rentals are available along the beach for both beginners and expert surfers. In Mirissa, catching a wave is an exhilarating and adrenaline-pumping activity. To catch some thrilling waves in Mirissa, you can easily rent a tuktuk and conveniently access the surfing spots.
Parrot Rock is a tiny rocky outcrop at Mirissa Beach that provides amazing panoramic views of the ocean and the shoreline. Hike to the top of the cliff to take in the spectacular views and the pleasant sea wind. For an adventurous journey to Parrot Rock, consider taking a tuktuk ride to Mirissa Beach and commence the hike from there. Find it here.
Taste the Local Flavours in Mirissa
O Mirissa Cafe and Bistro
O Mirissa Cafe & Bistro offers a delicious experience. Their broad menu offers a variety of scrumptious foods ranging from fresh seafood to cosmopolitan flavors. While enjoying a great dining experience in Mirissa, enjoy the comfortable ambiance and pleasant service. To savor the delightful cuisine at O Mirissa Cafe and Bistro, ride your tuktuk to conveniently reach the restaurant. Find it here.
For seafood lovers, Little Tuna is a hidden gem. Feast on a variety of delectable seafood dishes, including freshly caught fish and seafood platters. Little Tuna provides a lovely gastronomic experience by the beach with its attractive coastal ambiance and flavorful cuisine. To discover the culinary delights at Little Tuna, rent a tuktuk and easily locate the restaurant. Find it here.
At Milky Wave, you'll find the right balance of comfort and flavor. This little cafe serves handcrafted delicacies, creamy milkshakes, and fragrant coffees. Sit back, relax, and let Milky Wave in Mirissa give your taste senses a delicious retreat. To treat your taste buds at Milky Wave, consider renting a tuktuk to reach the cafe and enjoy a delightful experience. Find it here.
Immerse yourself in the laid-back environment of Bunga Bunga Beach. This beachside restaurant serves a variety of tasty food, including Sri Lankan delicacies and foreign cuisine. Enjoy your breakfast with the sand between your toes and the calming sound of the waves in the background. To experience the relaxed atmosphere and delicious food at Bunga Bunga Beach, rent a tuktuk and make your way to the beachside restaurant. Find it here.
Recharge at Comfortable Stays in Mirissa
Why Not Backpackers celebrates the backpacker spirit. This bright and affordable hostel provides a comfortable stay for guests looking for a relaxed atmosphere. It's the ideal spot to meet other explorers and make wonderful experiences on your Mirissa tour, with warm dorms and kind staff, this hostel temporarily close in low seasons. To enjoy the backpacker-friendly ambiance and affordable accommodation at Why Not Backpackers, get your tuktuk and easily reach the hostel. Find it here.
Sun & Moon Hostel offers the best of both worlds. This delightful lodging blends the warmth of a comfortable hostel. Relax in comfortable accommodations, take advantage of the social areas, and soak up the seaside sensations. Sun & Moon Hostel is an excellent choice for budget-conscious guests in Mirissa, thanks to its convenient location to reach by tuktuk and inviting environment. Find it here.
How to Get to Mirissa from Colombo
To go by train from Colombo to Mirissa, board a train from Colombo Fort Railway Station to Matara, the nearest railway station to Mirissa. There is no direct rail service between Colombo and Mirissa. When you arrive in Matara, take a short tuk-tuk or taxi journey to Mirissa, which is around 15 kilometers away. Depending on the train timetable and stops along the route, the rail travel from Colombo to Matara usually takes 3-4 hours. Find the train time table here
You may take a direct bus from Colombo to Mirissa from the Colombo Bastian Mawatha Bus Terminal. This route is served by regular bus services. The bus ride from Colombo to Mirissa takes roughly 3-4 hours, depending on traffic and the bus route. It is best to double-check the bus timetable and timings ahead of time. Direct buses provide a quick and cost-effective way to travel from Colombo to Mirissa. To plan your route and check bus timetables, go to, the official website of Sri Lanka National Transport Commission (NTC).
You can also arrange a private vehicle and driver to take you via a rental car or use one of the apps named Uber or Pick me (Sri Lankan app). This is the fastest but most expensive way to travel and it can take 3-4 hours.
Rent a Tuktuk and Drive to Mirissa !
Travelling from Colombo to Mirissa in your own tuktuk is one of the most spectacular ways to appreciate the beautiful splendour and discover Sri Lanka's hidden gems. Renting a tuktuk provides an exciting experience, with the freedom to drive through fascinating routes and the option to pull over at any location that sparks your interest.
Head over to our online reservations system on tuktukrental.com. Select your booking dates, extras and enter your details. Continue to the payment section and have a great time riding a tuktuk in Sri Lanka.
Frequently Asked Questions
What should I know about renting a tuktuk in Mirissa?
Renting a tuktuk in Mirissa is a great way to explore the city at your own pace. You'll need a local temporary driving license, which we can assist you with.
Is it safe to drive a tuktuk in Mirissa?
Yes, it's safe to drive a tuktuk in Mirissa. We provide a driving lesson to ensure you're comfortable with the vehicle.
What do I do if I face any issues during my rental period?
We offer customer support throughout the rental period to assist with any issues that may arise.
How do I get my licence to Mirissa?
On your pickup day, one of our driving instructors will drive the tuktuk with your locally approved permit (licence) and the necessary documentation to your hotel, provide you with a comprehensive driving lesson and off you go, explore paradise!
Can I drop-off the tuktuk in Mirissa?
Yes, you can drop off the tuktuk in Mirissa. You can check the pick-up and drop-off charges here!