When you think of Sri Lanka, one of the first things that might come to mind is the iconic tuktuk, a three-wheeled, motorized rickshaw. Renting a self-drive tuktuk in Sri Lanka can be a unique and exciting way to explore beautiful landscapes and immerse yourself in the local culture. However, selecting the right rental company is crucial to ensure a safe, enjoyable, and hassle-free experience. This comprehensive guide will discuss critical factors to consider when choosing a tuktuk rental company, including reputable reviews, official business registration, Sri Lanka Tourism Development Authority (SLTDA) registration, correct rental insurance, and other essential aspects. So buckle up, and let's dive in!
Reputable Reviews
A reliable way to gauge the quality of a rental company is by checking reviews from previous customers. Look for reviews on trusted platforms like Google, TripAdvisor, TrustPilot and social media channels to accurately understand the rental company's customer service, vehicle quality, and overall reputation. In addition to reading reviews, it is also helpful to join online forums and travel groups to seek recommendations and personal experiences from fellow travellers.
Official Business Registration
To ensure that you are dealing with a legitimate and responsible company, verify that the rental service is officially registered as a business in Sri Lanka. The Department of Registrar of Companies handles business registration, and you can request the company's registration number and other relevant documents to confirm its authenticity. Officially registered companies are more likely to comply with regulations and maintain ethical business practices, including paying taxes, thus contributing to the local economy.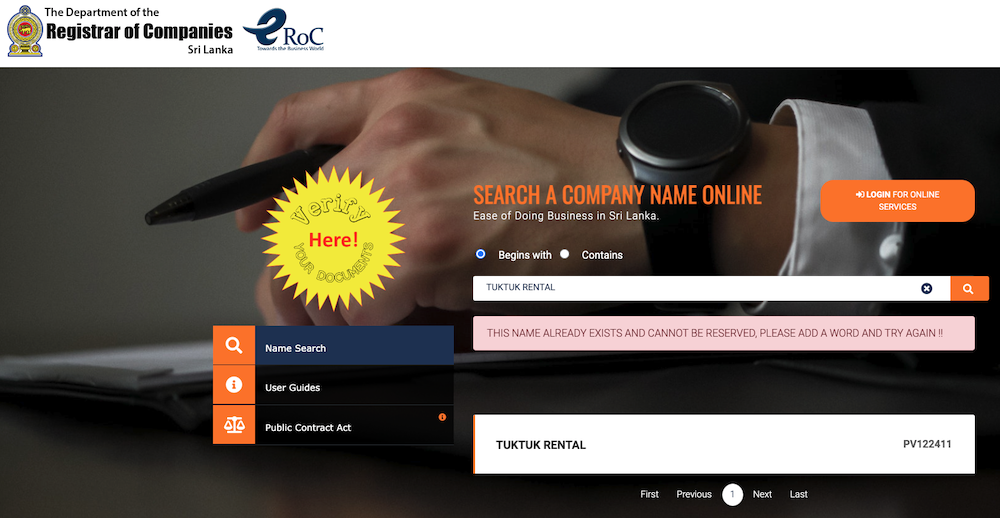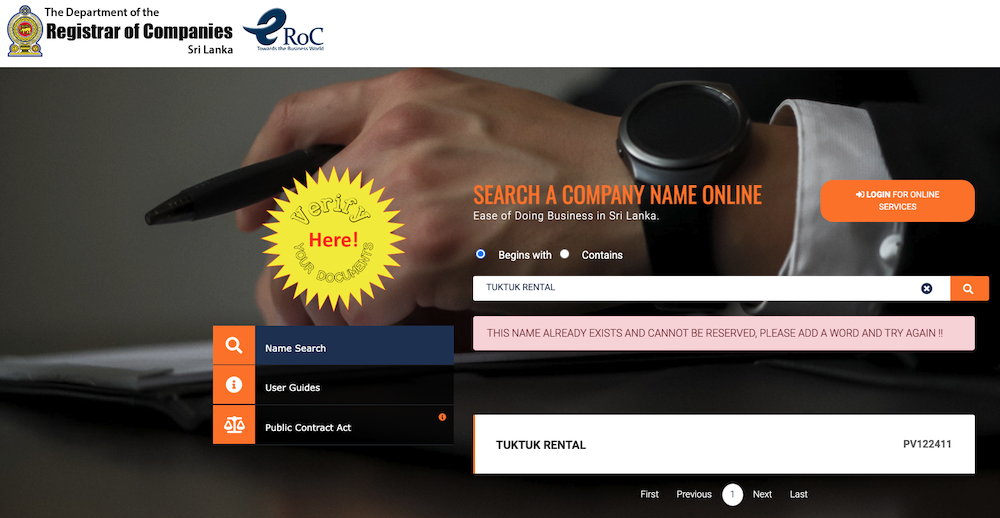 Sri Lanka Tourism Development Authority (SLTDA) Registration
Under the Tourism Act in Sri Lanka, any entity involved in providing tourist services must be registered with the Sri Lanka Tourism Development Authority (SLTDA). This registration ensures that the company adheres to industry standards and complies with legal requirements. Before committing to a tuktuk rental, make sure to verify the company's SLTDA registration and look for their registration number, which should be displayed prominently on their website and marketing materials.
Correct Rental Insurance
An essential aspect of renting a self-drive tuktuk is obtaining the correct rental insurance. In Sri Lanka, tuktuk drivers need a minimum of third-party insurance coverage, which protects against damages or injuries to third parties in case of an accident. However, comprehensive insurance is recommended, as it also covers damages to the rented vehicle and its occupants. Ensure that the rental company provides the appropriate insurance and that you understand the terms and conditions before signing any contracts. More detailed insurance information can be found here.
Staff Welfare
When considering renting a self-drive tuk-tuk in Sri Lanka, it is vital to consider the welfare of the staff servicing and maintaining the tuk-tuks and the customer service representatives assisting during the rental period.
A company that prioritizes the welfare of its staff is likely to provide a high-quality service and support experience. Look for a rental company that provides staff benefits and perks, such as pension schemes (For example, paying into the Employees Provident Fund (EPF) and the Employees Trust Fund (ETF), which are government-mandated pension schemes that provide financial security for our staff after they retire) and medical insurance for staff and their families, and that pays its staff good salaries to ensure they are fairly compensated. Companies that foster community and camaraderie among staff through regular events contribute to a positive work environment.
Safety and Maintenance
Safety should be a top priority when renting a tuktuk. Check the rental company's safety standards and maintenance procedures for their vehicles. A well-maintained tuktuk is safer, more efficient, and more enjoyable to drive. Inquire about regular inspections and the company's policy on replacing worn-out parts or repairing damages. You may also want to ask if they offer roadside assistance or emergency support during the rental period. Or if they have in-house mechanics and good quality spare parts (the current economic crisis in Sri Lanka has an affect on importing parts to the island).
Transparent Pricing and Fair Rental Terms
When choosing a rental company, it is crucial to understand their pricing structure and rental terms. Look for transparency in their pricing, which should include any additional costs, such as deposits, taxes, or extra mileage fees. Compare prices with other companies to ensure you are getting a fair deal. Additionally, review the rental agreement to confirm that the terms are reasonable and avoid companies with hidden fees or overly restrictive conditions.
Customer Support and Communication
Good customer support is vital for a smooth rental experience. Ensure that the company is responsive and provides clear communication throughout the entire process, from booking to vehicle return. This includes timely responses to inquiries, assistance with any issues that may arise, and being receptive to feedback. Check if they have a dedicated customer support team and consider their availability and language proficiency, as communication in English is essential for international travelers.
License Requirements and Documentation
To legally drive a tuk tuk in Sri Lanka, you will need a local temporary driving license. Make sure that the rental company guides you through the process of obtaining these documents and assists with the necessary paperwork. Be cautious of companies that allow you to rent a tuktuk without proper documentation, as this could result in legal troubles or invalidate your insurance coverage in case of an accident. Please read more information on this in our licence blog here.
Training and Driving Support
If you are new to driving a tuk tuk, it is vital to receive some basic training and guidance from the rental company. Inquire about the availability of introductory driving lessons or a comprehensive driving guide that covers essential tips and techniques for operating a tuktuk safely and confidently. A good rental company should prioritize your safety and ensure that you are comfortable with the vehicle before hitting the road. You can view our online guide here.
Environmentally Friendly Practices
As a responsible traveler, consider choosing a rental company that is committed to sustainable practices and minimizing its environmental impact. This could include using energy-efficient vehicles, implementing recycling initiatives, or supporting local conservation efforts. By opting for an eco-conscious company, you are not only contributing to a greener Sri Lanka but also promoting responsible tourism practices in the industry.
Since 2019, tuktukrental.com has been offsetting all their carbon emission. You can read more about their effort here.
Comparing Tuktuk Rentals in Sri Lanka
Renting a self-drive tuktuk in Sri Lanka can be a fun and rewarding experience, allowing you to explore the country at your own pace and fully immerse yourself in the local culture. By considering the factors discussed in this guide, including reputable reviews, official business registration, SLTDA registration, correct rental insurance, safety and maintenance, transparent pricing, customer support, license requirements, driving training, and environmentally friendly practices, you can confidently choose the right rental company for a safe and enjoyable adventure. Happy travels!