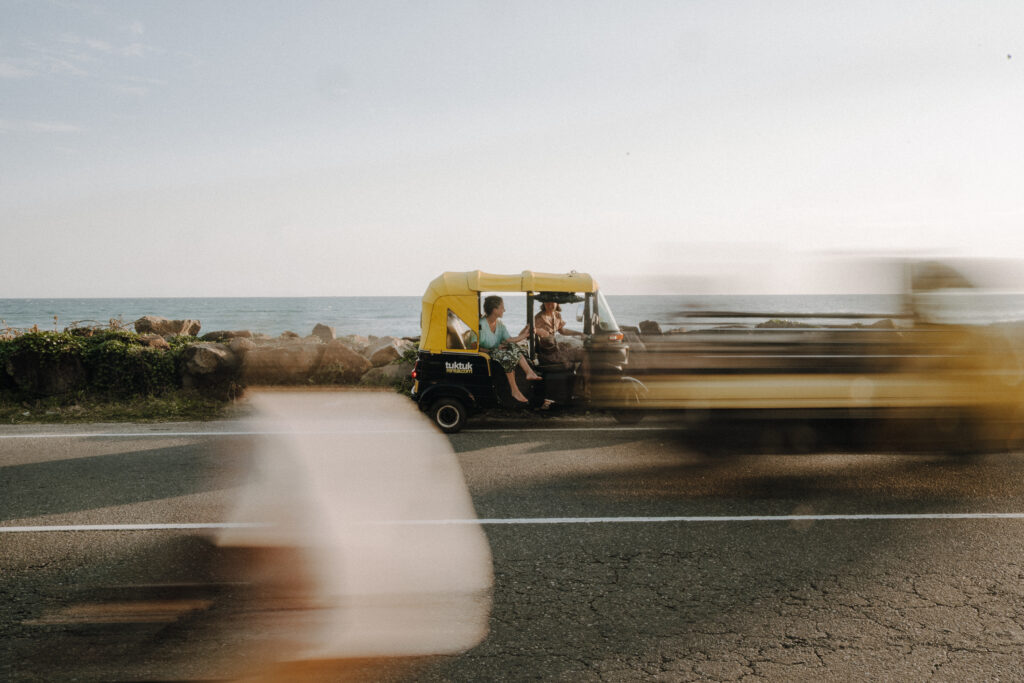 Rent a Tuktuk in Tangalle with Tuktukrental.com
How to Get to Tangalle from Colombo
You may take a train from Colombo to Tangalle from the Colombo Fort Railway Station. Although there is no direct train to Tangalle, you may catch a train to Matara, the nearest railway station to Tangalle. Depending on the train timetable and stops along the route, the rail travel from Colombo to Matara usually takes 3-4 hours. You may then take a short bus or taxi journey to Tangalle from Matara. Find the train timetable here.
To reach Tangalle from Colombo by bus, you can take a direct bus from the Colombo Central Bus Stand. Enjoy a convenient and scenic journey as you travel directly to Tangalle. The bus ride usually takes 4-5 hours, depending on the traffic and road conditions. Experience the coastal beauty of Tangalle by taking a direct bus from Colombo. To plan your route and check bus timetables, go to the official website of the Sri Lanka National Transport Commission (NTC).
You can also arrange a private vehicle and driver to take you via a rental car or use one of the apps named Uber or Pick me (Sri Lankan app). This is the fastest but most expensive way to travel. It will take approximately 3 hours from Colombo to Tangalle.
Rent a Tuktuk and Drive to Tangalle!
Travelling from Colombo to Tangalle in your own tuktuk is one of the most spectacular ways to appreciate the beautiful splendour and discover Sri Lanka's hidden gems. Renting a tuktuk provides an exciting experience, with the freedom to drive through fascinating routes and the option to pull over at any location that sparks your interest.
Head over to our online reservations system on tuktukrental.com. Select your booking dates, extras and enter your details. Continue to the payment section and enjoy riding a tuktuk in Sri Lanka.
Frequently Asked Questions
What should I know about renting a tuktuk in Tangalle?
Renting a tuktuk in Tangalle is a great way to explore the city at your own pace. You'll need a local temporary driving license, which we can assist you with.
Is it safe to drive a tuktuk in Tangalle?
Yes, it's safe to drive a tuktuk in Tangalle. We provide a driving lesson to ensure you're comfortable with the vehicle.
What do I do if I face any issues during my rental period?
We offer customer support throughout the rental period to assist with any issues that may arise.
How do I get my licence to Tangalle?
On your pickup day, one of our driving instructors will drive the tuktuk with your locally approved permit (licence) and the necessary documentation to your hotel, provide you with a comprehensive driving lesson and off you go, explore paradise!
Can I drop-off the tuktuk in Tangalle?
Yes, you can drop-off the tuktuk in Tangalle. You can check the pick-up and drop-off charges here!