Sri Lanka is open for tourists, vaccinated and unvaccinated, and it's the easiest country to travel to in 2022. Everything you need to know about the rules, regulations, visas and medical testing facilities available in Sri Lanka to assist with post-COVID travel. If you are travelling to Sri Lanka in 2022, this is what you need to know.
Disclaimer: This information is collated from official sources but general in nature. Entry requirements are subject to change at any time. Keep checking for the latest advice from your local government, embassy, or consulate to confirm any visa or entry requirements before travel. We will endeavour to keep this article up to date with the latest information and link the sources of information.
INFORMATION SOURCES
Entry Requirements in Sri Lanka
You require the following to enter Sri Lanka depending on your vaccination status. 
Fully Vaccinated
NO TEST REQUIRED!
Passport with minimum 6-month validity
Original Vaccination Certificate
COVID-19 Insurance
Entry Declaration Form
Health Declaration Form (online)
Optional: approved ETA/VISA
Not Vaccinated
As per the above list, excluding the Original Vaccination Certificate and including PCR test of max 72 hours old.
7 days Quarantaine Hotel, PCR test on the last day.
Note: You are considered fully vaccinated 14 days after your second dose of the vaccine or one month if you have the Jansen / Jonson vaccine.
COVID Status & Negative PCR Test
You must get either a pre-departure negative COVID-19 Test Report within 72 hours, or a negative COVID-19 Rapid Antigen Test Report within 48 hours of your departure flight to Sri Lanka, if you wish to board your flight and travel to Sri Lanka.
Exceptions:
If you or your Under 12 years of age
If you have had COVID-19 in the past 3 months, you may submit a negative Rapid Antigen Test (RAT) Report done within 48 hours prior to your departure flight.  
Getting a Visa
To obtain a visa please go to the following website and follow the instructions: eta.gov.lk 
The "visa on arrival" facilities are also available at the airport however it will be much faster if you apply online and have your visa ready to go through customs. You can see full visa instructions and options on our visa page here.
Original Vaccination Certificate (if vaccinated)
You will require a copy of your original or digital vaccination certificate. If you are not vaccinated you do not need this. Please refer to the "Non-Vaccinated Travelers" section below. 
Entry Declaration Form
This is the regular entry form that you fill out when travelling to other countries. It's a simple form that includes details like name, flight, arrival and departure dates and address in Sri Lanka. The immigration officer will take this form when he/she processes your visa and arrival into Sri Lanka. 
COVID-19 Travel Insurance
From the 1st of January 2022, all travellers to Sri Lanka need to get Covid specific travel insurance. You can purchase the insurance online here: https://www.visitsrilanka.gov.lk/. The travel insurance costs USD $12 for 1 month.
Important information about the mandatory $12 insurance:
In order to solve the many problems of not receiving the insurance certificate, from today, the mandatory insurance at 12$ must be purchased directly on this site: https://portal.pionline.lk/covidinsurance/
This insurance covers only in case of illness due to covid during the stay in Sri Lanka and is MANDATORY for everyone (even babies).
Health Declaration Form
This is a general health form that can be found here. To fill out this form you will need (a) passport details, (b) flight details, (c) vaccination certificate or other, (d) PCR test results.
Generally, the following steps take place upon landing in Sri Lanka
Upon landing you will exit your plane as usual and first go through immigration. This is a regular immigration check-in and you need to show your entry declaration form, passport and visa. 
After this you will be able to go to the baggage claim area and grab your bags.
From here your will go through customs where you can declare any items you may have. Every time I've been there I just walk through without anything to declare (it's a bit confusing but just head for the exit),
You will then need to go through another counter and show your Health Declaration Form – they can scan the barcode of your form so make sure you take a screenshot on your phone. 
After this you are free to exit – however – we recommend that you grab a sim card at the airport with some internet to make finding your hotel and other restaurants or sites MUCH easier. It's a bit more expensive to get here but it's much simpler. After you have the sim card you will be able to recharge your sim outside of the airport at local shops.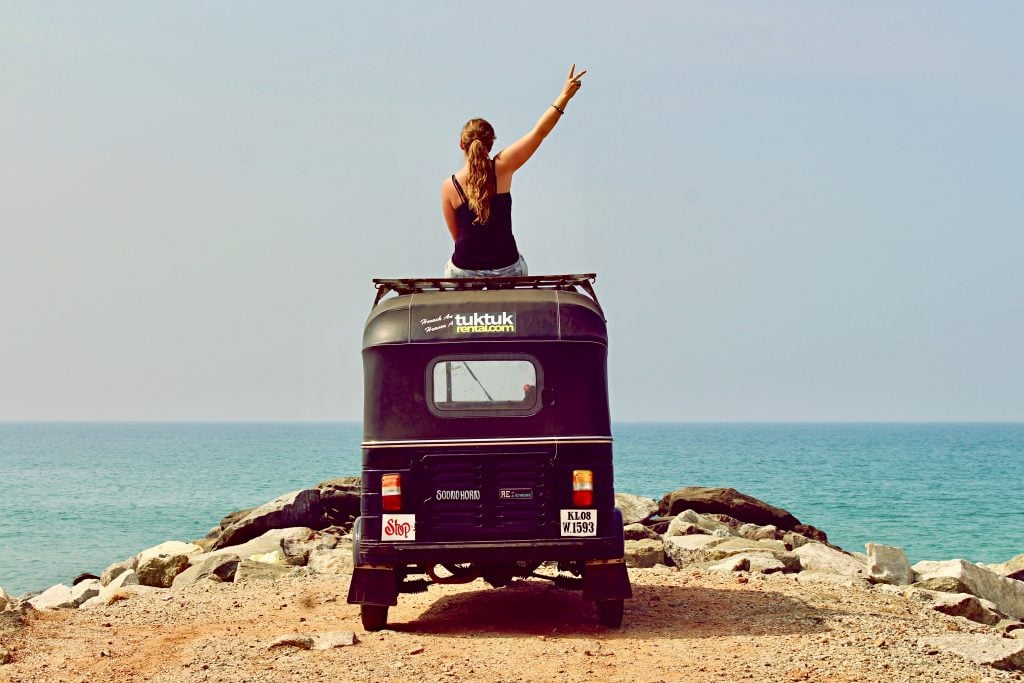 Non-Vaccinated Travelers
No, you do not need to be fully or even partially vaccinated to travel to Sri Lanka. 
If you are not fully vaccinated, you will need to book accommodation within the "bio bubble" until whatever comes sooner:
14 days after your second vaccine dose (when you become "fully vaccinated"), or, 
7 nights / 8 days after arriving in Sri Lanka subject to getting a negative PCR test on the 7th day.
What is the Bio Bubble?
In the bio bubble, you can stay in hotels all over the island and travel between these hotels. The hotels are listed here. I believe there are more hotels available than what is on this list. 
You can also visit tourist sites at particular allocated "bio bubble" times. The tourist sites you can visit are listed here. 
Travelling home from Sri Lanka
Depending on where you are travelling and which transit airports you are using, you often require a negative PCR test or RAT.
PCR Testing Facility at Colombo Airport
Everyone can use this facility, you just need to "rock up" without booking. It costs USD $38 and you receive your results in 3 hours. It's open 24 hours a day. As a foreigner, you are not able to pay in rupees here, you need to pay by card in USD. (we don't make the rules).
AASL-Hospinorm PCR Laboratory & Lounge
+94 112 255 255
https://goo.gl/maps/Vsb19e19GaTtZTKw9
Metro Lab and Clinic Negombo (20 min Antigen Test): https://g.page/metro-lab-and-clinic?share