Everything you need to know about travelling to Sri Lanka with your kids and in a tuktuk. Inspirational stories from families who have adventured the island on three wheels. Now so can you!
Travelling with your kids is something special. Sharing special moments together in another country, a different culture, experiencing new tastes and a totally different way of life will broaden their perspective of everything to come in the future. Travelling with your kids is highly recommended as far and often as possible!
In this aspect, I would like to highlight Sri Lanka as one of the perfect holiday destinations for kids.
This country has so much to offer! From a metropolitan capital city with all the luxuries that come with it, ancient ruins of kings and queens spread across Sri Lanka. A rich cultural diversity results in fantastic food and different languages, many religions with their temples, Hindu Kovils and mosques. The central hill country with hikes to breathtaking views and an abundance of green tea plantations. Then, of course, the beaches with great surf, sun and sandy beaches! But last and not least, the friendliest people on earth who love to see you travel with children!
The beauty of Sri Lanka is that there is so many diverse things to do, all packed up in one little island!
With so much diversity and things to do in Sri Lanka, your children will constantly be focused on the next thing. No screaming kids in the backseat asking how long it is going to take, not complaining about food because there is just so much choice everywhere to be found. The people here are so friendly and interested. Your kids are going to feel very special! The island is so diverse you will have the feeling you are visiting four countries in one.
We would like to take this time to highlight why a tuktuk adventure with your kids is the next thing that should be on every family's bucket list. But don't take my word for it; let's see what renting a tuktuk has to offer adventurous travelling families and what the experiences are to date.
The Melman Family
The first family with a baby to travel with Tuktuk Rental where Sjoerd, his wife Sannewith baby Sam. They travelled to the island in September 2016 and had a fantastic time! They rented a tuktuk for almost a month and drove all across the island and made this nice video about the journey:
The Family Fee
In February 2018, Sean Fee from TastyPictures (yes the famous Director and Cinematographer!) contacted us as he wanted to rent a tuktuk for his Sri Lanka adventure. He travelled Sri Lanka together with his wife and kids of 2 and 4 years old and they had the time of their lives! Let's not waste too much writing on this, have a look at this amazing video he made with the highlights of their journey.
Nanda and her three sons!
Narda, the mother of the family, travelled to Sri Lanka with her 3 sons of 17, 18 and 22 years old. I must say what a great idea! They rented 2 tuktuk and took the roads less travelled. Asked us for a specified itinerary and we advised them with things they never even thought of! Driving from Mount Lavinia to Kurunegala, Dambulla / Sigiriya, Trincomalee, down to Wasgamuwa National Park and then over the Knuckles Range to Kandy. Racing up the hills towards Nuwara Eliya and of course Horton Plains as well. See here some photos of their journey: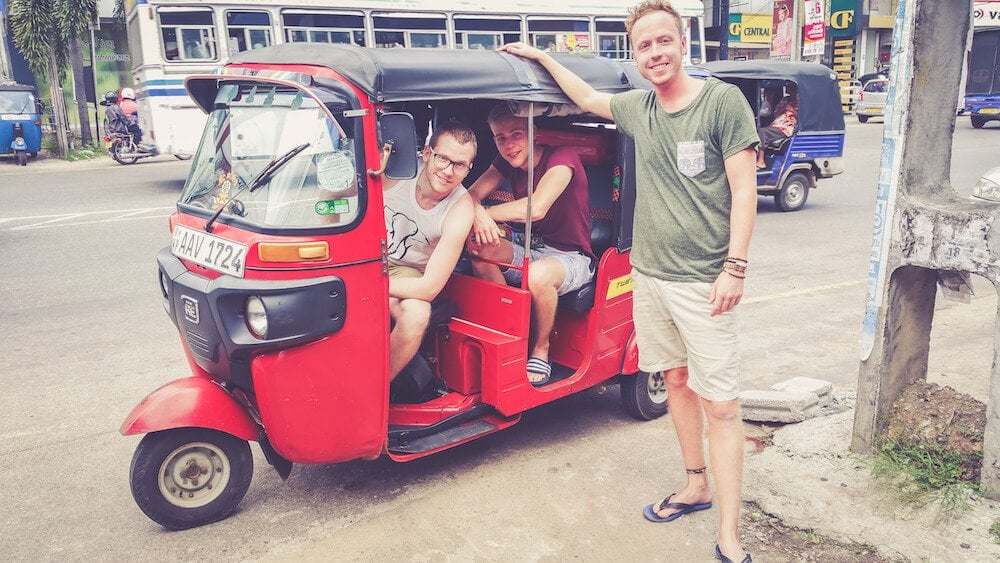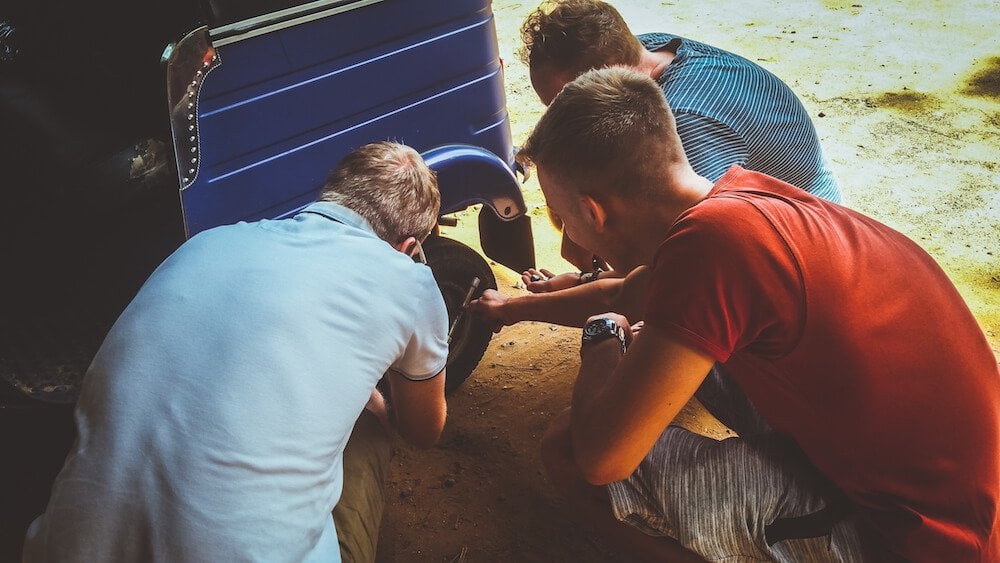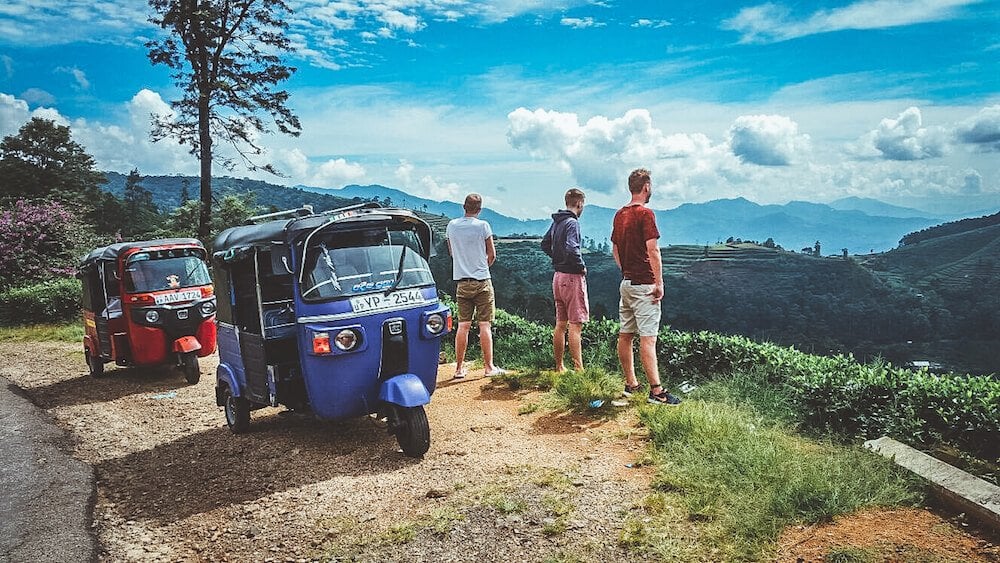 Daniel, Bre and their little kid!
How many people fit in a tuktuk?
We currently only rent out the Bajaj RE 4-stroke 198.88CC tuktuk, which actually fits 4 people! But would definitely not be very comfortable if everyone has large backpacks with them too. In that case, we would recommend renting more than one tuktuk. Which is actually much fun as you roam the island in your very own tuktuk convoy!
If you're travelling with kids (who are generally smaller humans) three people fit in the back easy.
Luggage
There is plenty of room behind the backseat for luggage/backpacks. The dimensions are 60 cm high, 110 cm in length, and 30 cm in width. Please see the images here. The back seat of the tuktuk can fit 3 people, there is also room on the seat itself if you are travelling with less than 3 people. If you don't mind putting your feet up you can fit at least two more backpacks on the floor of the back seat.
Facilities Tuktuk Rental offers when travelling with your kids
During the last years, we have professionalised our approach when it comes to travelling with kids. You want to be sure everything is organised properly and nothing goes wrong.
When your kids are older there is, of course, not much to worry about, they know what they are doing but also would like a bit more adventure. At Tuktuk Rental we are more than happy to advise on some amazing off the beaten track experiences, which will be something your young adults will definitely enjoy!
For the families travelling in a tuktuk with toddlers and babies, we have purchased high-quality baby seats. These can be attached to one of the newer tuktuks we have which always come with seatbelts and extra bars on the right side. Below you can see our baby seat in action and of course the Fisher-Price Safe Voyage car seat.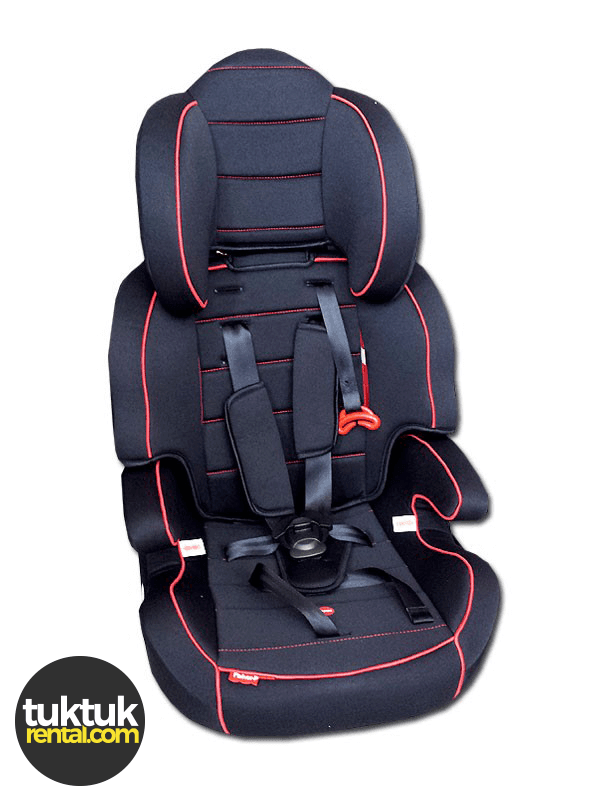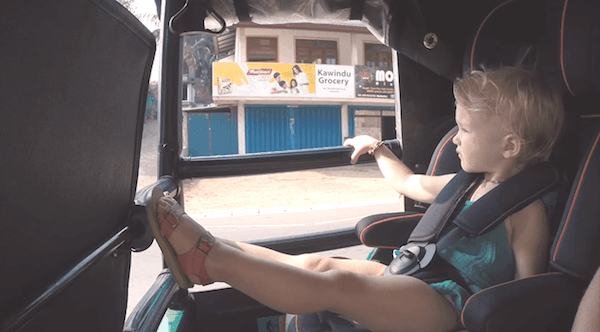 With the Fisher-Price Safe Voyage baby seat, you are ensured of maximum safety, convenience and comfort for your child on every journey. This car seat is suitable from 9 months right up to 7 years old. Both the padded seat and adjustable head support, promise a comfy journey in your very own tuktuk! (No we are not getting paid to advertise for them, we genuinely think it's a good seat).
Being Creative
Last but not least you have to get a bit creative and combine different amenities to create more comfort for you and your family while travelling in a tuktuk. One of the things we suggest is renting surf-boards racks together with your tuktuk, that's the best place to keep the baby stroller when travelling!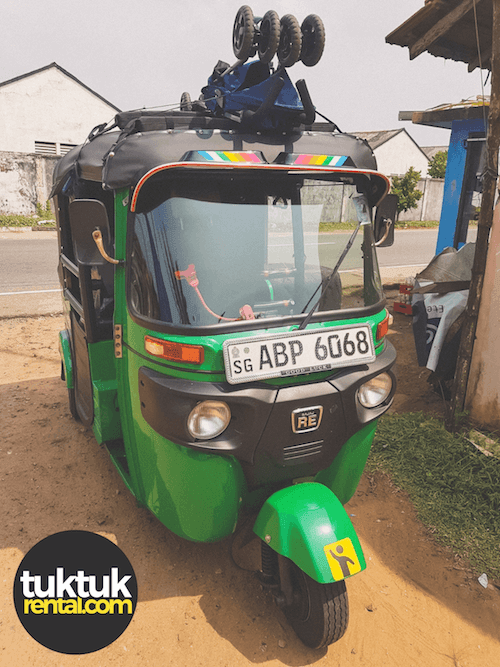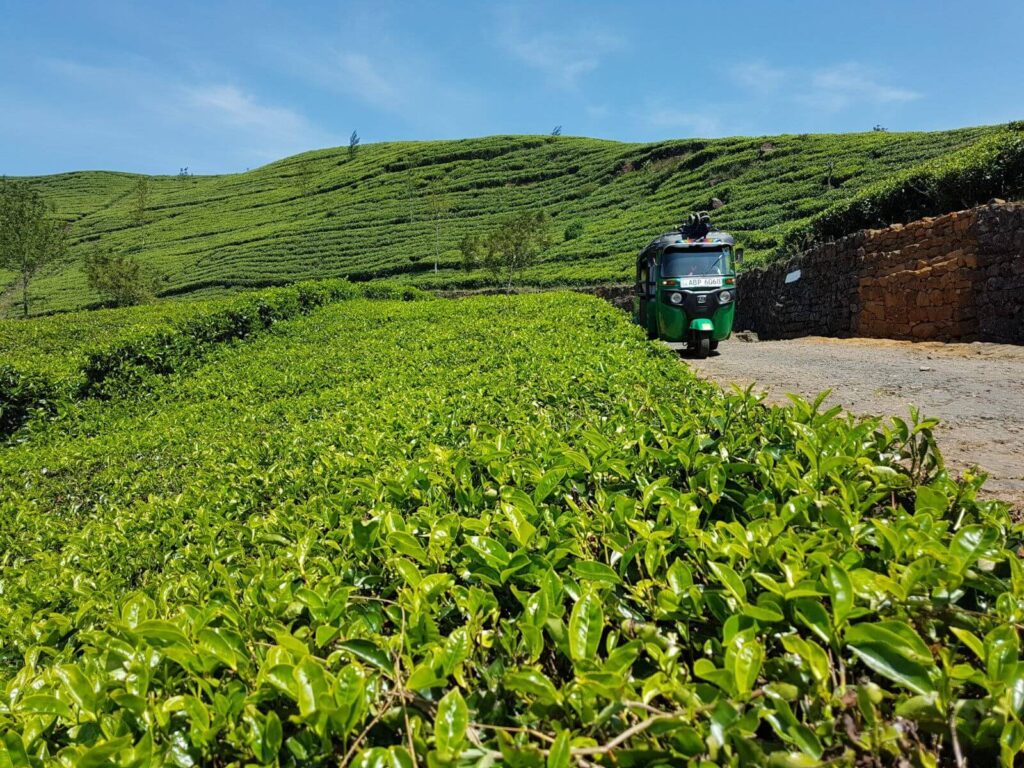 Happy tuktuk travelling families!