Driving a tuktuk is great, driving through a National Park (Tier II) is amazing and spotting Wildlife from the comfort of your Three Wheeler is a priceless experience. Please be aware, however, that these are very much Wild Animals and you can get badly injured, lose your tuktuk or even be killed if you make irresponsible and reckless decisions!
Sri Lanka is an island of Protected Wildernesses, of which there are 1350+ such Protected Areas (PAs) spanning the length and breadth of the island (across all ecological – climatic zones). Unfortunately, very few people are aware of this fact, and even when it comes to the Protected Area (PA) Types and Tiers that people do recognise, which in Sri Lanka's case is it's National Parks, the majority of people only know of National Parks (Tier II) such as Yala, Udawalawe, Horton Plains, Minneriya, Kaudulla, Wilpattu, Wasgamuwa and Gal Oya (the latter two having only achieved moderate recognition within the last five years).
As such, there is a very strong likelihood that you will cut across one of these Protected Areas (PAs) during your travels across the island. Do not be fooled, as many of these PAs have tarred/concreted roads cutting across them, but that does not mean that they are safe places, especially if you decide to exit your tuktuk when within the boundaries of such as PA, a mistake made by many people! In the majority of these PAs, you will find a large number of Wild Sri Lankan Elephants which have unfortunately become habituated to the presence of vehicular traffic, as both locals and foreigners tend to stop and feed them from the safety of a vehicle (usually a Bus, Van or Sedan). This is extremely detrimental to both Humans and Wild Elephants however, as it creates a false sense of security that these Elephants are "tame" and can be approached on foot, fed and even touched. This could not be further from the truth, and if done you could potentially be seriously injured or even lose your life. Additionally, there are health implications for the Elephant, as the unnatural behaviour of staying in a single location all day, combined with the often polythene wrapped, high sugar food items can very easily lead to the death of the Elephant in question. Sri Lanka has enough issues relating to the Human-Elephant-Conflict (HEC) and every Wild Elephant lost is another serious blow to the stability of the overall population!
As such, keep the following points in mind when travelling across the island:
Feeding, harassing and directly interacting with Wild Elephants are all activities that are completely illegal and in direct violation of the Flora and Fauna Protection Ordinance (FFPO). Such activities can incur very heavy fines and potential penalties!
When cutting across any Protected Area (PA) that has a tarred/concrete road going through it, do not exit your vehicle at any point! Only exit your vehicle once you have left the Protected Area (PA) in question. You'll usually know once you've exited due to the presence of scattered settlements, electric fences, electric gates, small scale solar power stations and checkpoints, which normally demarcate the extent of a Protected Area (PA), though keep in mind that this isn't always the case.
If you need to stop to take a picture of a Wild Elephant (or any example of Wildlife for that matter), then do so but only at a safe distance. Do not approach and park within 5 metres of a Wild Elephant for extended periods of time, as it might decide to reach into your TukTuk looking for any food items present, or get annoyed and damage/flip/smash/crush your tuktuk (see the image below).
If you see others engaging in the above-mentioned examples of illegal, unwise behaviour, do not join in with them, just keep driving through. If they signal to you to engage in such behaviour with them, politely decline and carry on your journey.
Finally, do not attempt to take selfies with Wild Elephants, and do not fly drones when within the boundaries of any Protected Area (PA), National Park (Tier II) or other, as the latter is both illegal and extremely distressing to Wild Elephants!
Remember, Habituation DOES NOT EQUAL "Tame" so be extremely careful when approaching, observing, photographing and passing a Wild Elephant. A classic example of this is "The Rogues", a mixed group of Wild Elephants that can be found along the length of the B035 Byway (alternatively the Badalkumbura – Buttala – Sella – Kataragama Road), specifically the section that cuts across Yala National Park – Blocks III, IV and V, Wild Elephants that have unfortunately become habituated to vehicular traffic and expect/demand (the latter only in certain cases) food from vehicles cutting across the park. Another famous example is Rambo, a Wild Bull (Male) Elephant who sometimes stands on the bund of the Udawalawe Reservoir (which demarcates the southern boundary of Udawalawe National Park), exhibiting similar behaviour to The Rogues. Ultimately, while we want you to have fun and gain once in a lifetime experiences, there must be a level of respect maintained for Sri Lanka's absolutely fantastic Wildlife, which will also ensure your own safety as well!
Please note, as mentioned above, that it is highly illegal to stop on roads that go through National Parks (Tier II) and it's even more illegal to feed wildlife!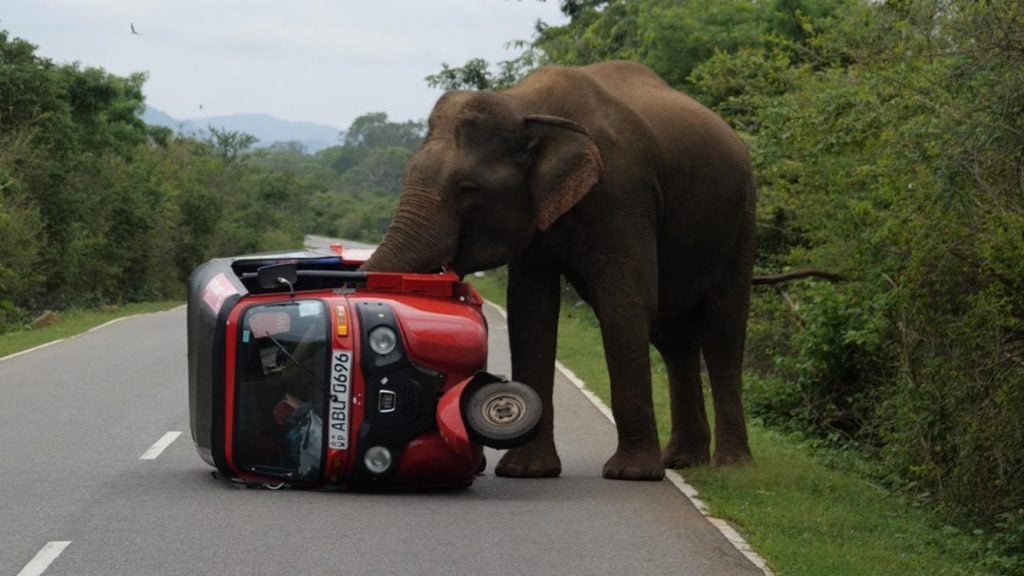 This page was co-authored by Sri Lankan Wildlife Conservationist and Protected Area (PA) Specialist John Wilson. If you have any further questions and/or clarifications feel free to contact him directly via his Instagram, his username is @tuskertrackingwithjohn.