With twelve main National Parks in Sri Lanka, so many different landscapes and wildlife to be seen, there is quite some choice when it comes to booking your jeep safari and spotting elephants, leopards or sloth bears on the island!
With rich species of flora and fauna, Sri Lanka is ranked among the 34 biodiversity hotspots in the world. We all know the famous Yala, Udawalawe, Kaudulla, Wilpattu and Minneriya. But other parks like Wasgamuwa, Gal Oya, Madura Oya and Kumana National Park are also well worth the visit and offer a great (boat) safari!
This guide act as a general information source about the different national parks in Sri Lanka. Basic background information about the park with valuable insider tips, what the best time to plan your safari is and the different animals/wildlife you can find in the national park.
In the last chapter, we will also include out some great roads you can drive where you have a high chance of spotting elephants and other wildlife straight from your tuktuk! The REAL tuktuk safari of Sri Lanka 🙂
National Parks in Sri Lanka
Yala National Park
Udawalawe National Park
Wilpattu National Park
Kaudulla National Park
Minneriya National Park
Hurulu Eco-Park
Wasgamuwa National Park
Madura Oya National Park
Gal Oya National Park
Kumana National Park
Lunugamvehera National Park
Horton Plains National Park
Bundala National Park
Sri Lanka National Park Map
Below you will find a map of all the parks mentioned in this guide. You can see where the entrances are located, other special mentions and of course the roads where you can do a tuktuk safari.
Yala National Park
On the south-east coast of Sri Lanka, located between the dry and wet-zone of the island lies the massive and impressive Yala National Park. Full of forests, lagoons and grasslands it is the most visited national park of Sri Lanka. In fact, it is so big, Yala has been divided into different sections (blocks), each with its own unique aspects, nature and wildlife. One of the few parks where leopards and (sloth) bears are spotted frequently, but of course also home to many other animals!
The different blocks of Yala National Park
Yala National Park consists of 5 blocks and a strict natural reserve. Block 1 is the one where all the main safari jeep safari's take you and 2, 3, 4 and 5 are less visited and lower chance to see wildlife. In Yala Block 2, you will find some great accommodation possibilities like wild camping/glamping in combination with multiple safari excursions.
Yala Block 1
Since Yala Block 1 is the most famous and by far the most visited block of Yala National Park, we will explain this one in more detail. Always check with your safari jeep provider which entrance they use, and that your accommodation is not too far from that entrance.
Its almost exclusively used for safaris and apparently the best place to spot leopards, as it said to have the highest density of leopards in Sri Lanka and some even say the whole world. Since this is the one most jeep safari's take you, we'll break it down the difference between the two entrances.
Yala Palatupane entrance
The main Palatupane entrance is 15 km East of Tissamaharama. This is also the entrance where you have the highest chance to be caught in jeep safari traffic! It can terribly busy and people have complained about long lines of jeeps and groups of jeeps gathered around animals, the drivers even call each other when they spot an animal.
Yala Katagamuwa entrance
The other, lesser known entrance to Yala Block 1 is at Katagamuwa. Which is about 12 km east of Kataragama. This entrance is generally less busy and you are closer to Talgasmankada-Meda Para area where it said that the most leopards are spotted. But again, it is Yala Block 1 so will get busy eventually.
Best time to visit Yala
Yala National Park is a year-round destination. The main dry season, which runs from May to September you have a higher chance to see wildlife as the animals gather around the drying waterholes. From April and October, you can expect rain now and then, the main but mild rainy season runs from November to January.
Wildlife/animals in Yala National Park
In Yala National Park, you can find most of the famous wildlife in Sri Lanka and is therefore also frequently visited by travellers. Elephants, leopards, (sloth) bears, buffalos, deers, peacocks and many other birds.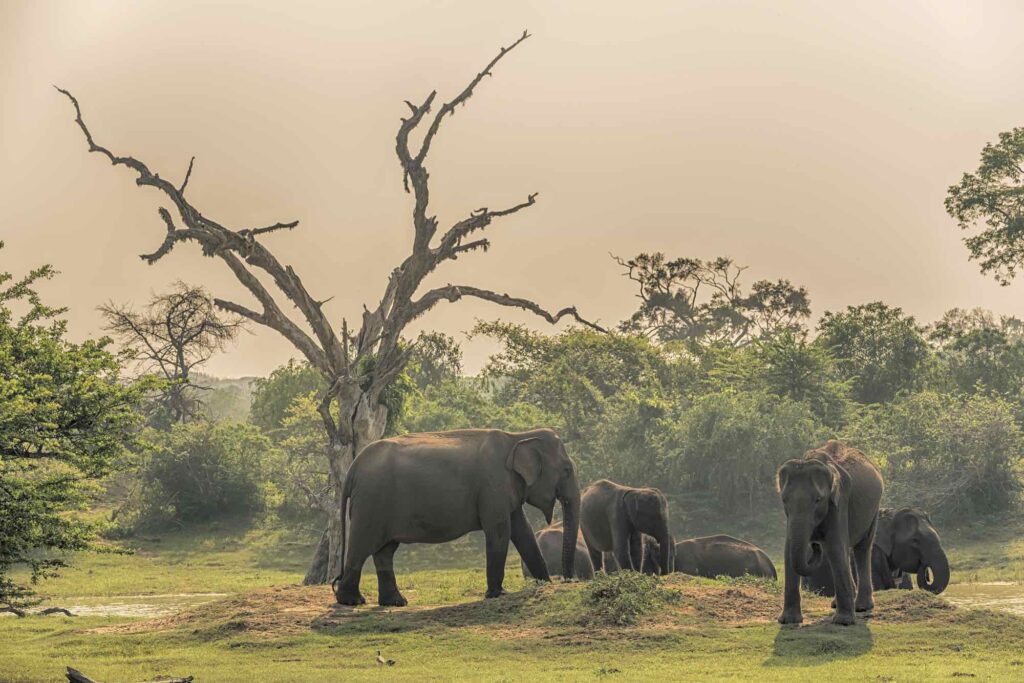 Udawalawe National Park
More information here soon.