The paradise island of Sri Lanka, a country dependent on tourism, is currently in an economic crisis. The road to recovery is long, and the tourist industry has been somewhat affected. But in general, you will still have a great time travelling to Sri Lanka for your holiday travels!
Tourists and fuel are essential to our operations as we're in the tourism industry and the tuktuk rental business. We monitor the situation closely and keep sharing updated information here.
Fuel
The economic crisis means less money to buy fuel, resulting in shortages, closed fuel stations, and queues at fuel stations. You've probably seen the images in the news from the beginning of the year, long queues and no fuel. Since then, a lot has improved. In August, a QR Code Fuel Pass system was introduced to limit distribution based on a quota.
You've probably seen the messages in the news regarding long queues at petrol and gas stations in Sri Lanka. At the beginning of the crisis (back in February/March) and before this news hit internationally recently, this had already hit the Sri Lankan news. What resulted is a massive run to fuel stations and people wanting to fill up before it runs out, but what happens when everyone wants to fill up simultaneously? Exactly, long queues and it runs out even quicker. This resulted in a temporary shortage till they get filled up again. Even outside of this crisis, fuel stations are generally quite busy, especially in the western and southern parts of the island, which are more densely populated.
Petrol is what is most important to tourists renting a tuktuk. Initially, our customers and other tourists did not have much trouble finding petrol. In April, there was a couple of weeks of petrol shortage around Kandy (long queues), but that has largely been solved.
Sometimes, as there are also power cuts, the electrical pumps don't work. Thus the fuel station is closed temporarily. If there is no electricity, this results in long lines, which makes sense. This happened a lot in the beginning when there was a diesel shortage, but not much now.
In the beginning, we have had customers drive around finding fuel stations with long lines, to drive to the next one, which is closed, but the next one has no lines. There was no sense to make of all of this, other than many people starting to panic when they see a queue thinking it's running out, so they join the queue to be sure.
Since then, things have improved, and petrol availability is improving daily! We have seen a steady supply of fuel shipments arriving into the country. Petrol distribution mostly supplies to densely populated areas such as Colombo, Kandy, and Galle where most petrol vehicles are on the road. At the same time, outer suburbs are receiving petrol currently on a slow note. That means you have more chance of pumping fuel in the outskirts where you would mostly travel.
There are special days (mostly Fridays) where Ceypteco distributes fuel to Essential Services. This means doctors, police, army, religious leaders, etc. Often also tourists are able to fuel up their tanks here, as the Ministry of Tourism has declared Tourism an Essential Service. When pumping fuel for essential services at a fuel station, check with the police or army present if you can get fuel.
Lanka IOC has been the stable petrol provider in Sri Lanka, filling up their fuel stations every 2 or 3 days. When there is petrol at a shed, you will get priority with the fuel letter (see below). The recent partnership with Lanka IOC to build new storage tanks in the country will provide fuel sufficiently.
We are posting updates about the situation at the end of this blog!
Fuel Pass Card
The Tourist Fuel Pass Card is a unique foreign currency top-up card introduced during Sri Lanka's economic crisis. Tourists can use it to get unlimited fuel and priority access at fuel stations when self-driving a tuktuk around Sri Lanka.
The MINISTRY OF POWER AND ENERGY, THE MINISTRY OF TOURISM and Lands, DIALOG TELECOMMUNICATIONS AND SAMPATH BANK have launched the Tourist Fuel Pass or Card to help tourists with fuel quickly when self-driving around the island.

Please check out our blog post here for more information about this special card.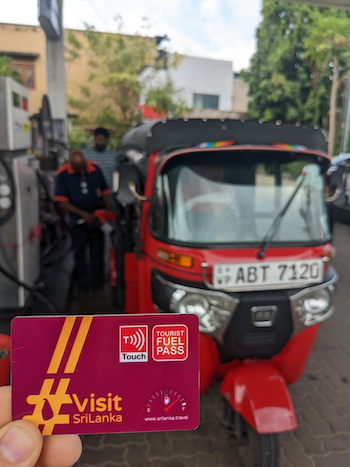 Fuel Stocks
Over the months we've been able to stock up some fuel at friends around the island. We work with many mechanics and other tourism professionals. They love our business and have helped secure petrol from time to time. This, however, is subject to availability.
We're working with the Board of Investment (BOI) companies and factories who have already been able to secure bulk petrol. But they need USD for their own imports, something we have and thus its easy to trade in some instances.
We're currently working on buying our own petrol directly from importers, once this is done petrol will be easily available for all our customers!
Fuel from Army Camps
At the end of June, the Sri Lanka Tourism Development Authority set up an emergency fuel system. Customers through companies registered them, were able to get fuel at selected army camps around the island. It has currently been discontinued but is likely to resume soon!
The Friendly Sri Lankan People
As Sri Lanka is a country dependent on tourism, there are many people willing to help! Our customers have been experiencing that people in queues insist they go first, police that have let them pass petrol queues, fuel station managers that ask them to come forward, and the list goes on!
But even hotel owners that have extra fuel stored at their places or send someone to get fuel for you, truly the hospitality of the people towards tourists in this crisis has been amazing. Once you book, you can message or call ahead and ask them to secure some fuel for you!
I think everyone understands that tourists bring foreign currency to the country, so it's best they have no hinder to the current economic situation on the island.
Foreign currency crisis in Sri Lanka and its effects on the economy
The reason for all this is that Sri Lanka has been having some problems with its foreign currency reserves (Euro and USD on the central bank account) for quite some time. Since the 2019 easter attacks and then the COVID pandemic, less foreign currency has come into the country to buy essential and luxury products from overseas, for which you need foreign currency to purchase.
For example, since 2020, there has been an import ban on vehicles. This includes tuktuks! Resulting in a thriving second-hand market where a tuktuk which cost 1 million LKR in 2020, costs a whopping 1.6 million rupees now!
Spare parts, for instance, also don't get into the country. Resulting in increased prices for spare parts to fix tuktuks. Oil is the same story, getting quite expensive. We, however, continue to offer our product at the same rates to tourists but have chosen to raise the rates we pay our tuktuk owners.
At the moment, tourists are one of the largest sources of foreign currency to the island. But with the war in eastern Europe, tourists from Russia and Ukraine have declined rapidly, who have always been large contributors to the tourist economy. Besides that, many exports like tea which go to these countries, have decreased.
Rupee Depreciation
The value of the Sri Lankan rupee is declining rapidly. As a result, your Euros and US dollars are worth much more in the country!
Fuel Prices
As a result of the economic situation and foreign currency crisis in Sri Lanka, fuel prices have increased a fair bit from before. Now before this scares you, let's look at what fuel prices and what it means for you as a tourist in terms of pricing:
Compared to most of the western countries where fuel is around the 2 $/€ mark and even in neighbouring India, fuel and petrol is still super cheap in Sri Lanka!
However, there is a very lively black market and sourcing fuel from other companies (who are able to buy directly from the importers) is more expensive. Unfortunately, prices can go up to $5 and $6 per litre.
Food Prices
At the moment there is no shortage of food, just that prices have increased. Still very cheap, especially if you're coming from the west. The government is working on alternative ways to make sure the food supply will carry on smoothly, as the lower-income people of Sri Lanka are going to face issues in paying for food items. The problem is the government does not have any dollars to import food anymore, because there are very few tourists.
Power-cuts
The foreign currency shortage results in limited diesel and coal imports, impacting the amount of electricity the fossil fuel plants can produce.
This resulted in 3 to 4 hours of no electricity spread out during the day, sometimes 6 to 8 hours in some areas. For example, at our office near the airport, we had a 2-hour power cut from 6 am to 8 am and then again from 2 pm to 4 pm. However, this changed daily! Since this week (end of March) there have been some nightly power cuts.
This, of course, also influences petrol stations as they need electricity to use the pumps. This results in many hours of not being able to fuel up and then longer queues when there is electricity again. That makes sense, right?
Will this affect you? Yes, of course, but does it make your experience less enjoyable? I don't think so. The way I see it, and what feedback we're getting from our customers, is that you're exploring, visiting sights, driving around, and enjoying the country during the day. Do you need electricity for this? Not really. I don't know what effect having no power will be on you climbing Sigirya or surfing in Hiriketiya, but seems to me that this is not a big problem. Nighttime power cuts are annoying, though, especially if your hotel does not have a generator and it's hot, but this doesn't last forever, luckily.
Power cuts sometimes happen in the evenings, resulting in a candlelight dinner or drinking your beers and enjoying the warmer climate while looking at the stars. Doesn't sound like too much of a problem to me!
Bring a power bank to charge your phone when there is no electricity. A headlight/torch is also recommended. Most bigger hotels and restaurants have a generator anyway.
Protests
The economic situation affects the local population a lot. They are suffering from the rising prices, not being able to work due to the power cuts and can't take the bus as there is no diesel to fuel the thermal power plants or water in the reservoirs to produce electricity for the hydro plants. All in all, the people are fed up and taking to the street to protest about the situation and demand the government to take action or step down.
The protests mainly occur in Colombo, near the presidential and political headquarters. Occasionally in other parts of the capital or in other cities.
On the 9th of July the protests have quite peacefully taken over the President's house, the Presidential Secretariat, the Prime Minister's Office and forced them to step down.
What I have learned from living in Sri Lanka for many years, including during the civil war, is that tourist areas are very rarely affected by protests. I don't expect unrest in Mirissa, Ella, Arugam Bay, or Unawatuna, for example. Tourists have always been protected from these types of civil unrests, so don't be afraid this will impact you. In the very unlikely event, you happen to find yourself in a protest. You won't be affected other than hearing the complaints of the local population about the situation. I was there on the 9th of July when protesters started swimming in the president's house. I saw police and protesters talking about the situation, sharing cigarettes, we all are done with the situation and the officers and army were just doing their jobs.
News on the ground (live from our customers)
News on the ground is that in the north and east, things are very, very quiet! No protests; everyone is going about their lives. With added advantage, that part of the island is in season! Beautiful beaches around Trincomalee, great surf around Arugam Bay. Time for you to head over there! Check out our Arugam Bay guide here.
We've got an on-the-road WhatsApp group where our team give updates/advice, and we've got very knowledgeable Sri Lankans giving even more advice and tips. But most importantly, we get feedback from our customers, tourists in Sri Lanka, on how there are experiencing the situation which I think speaks for itself: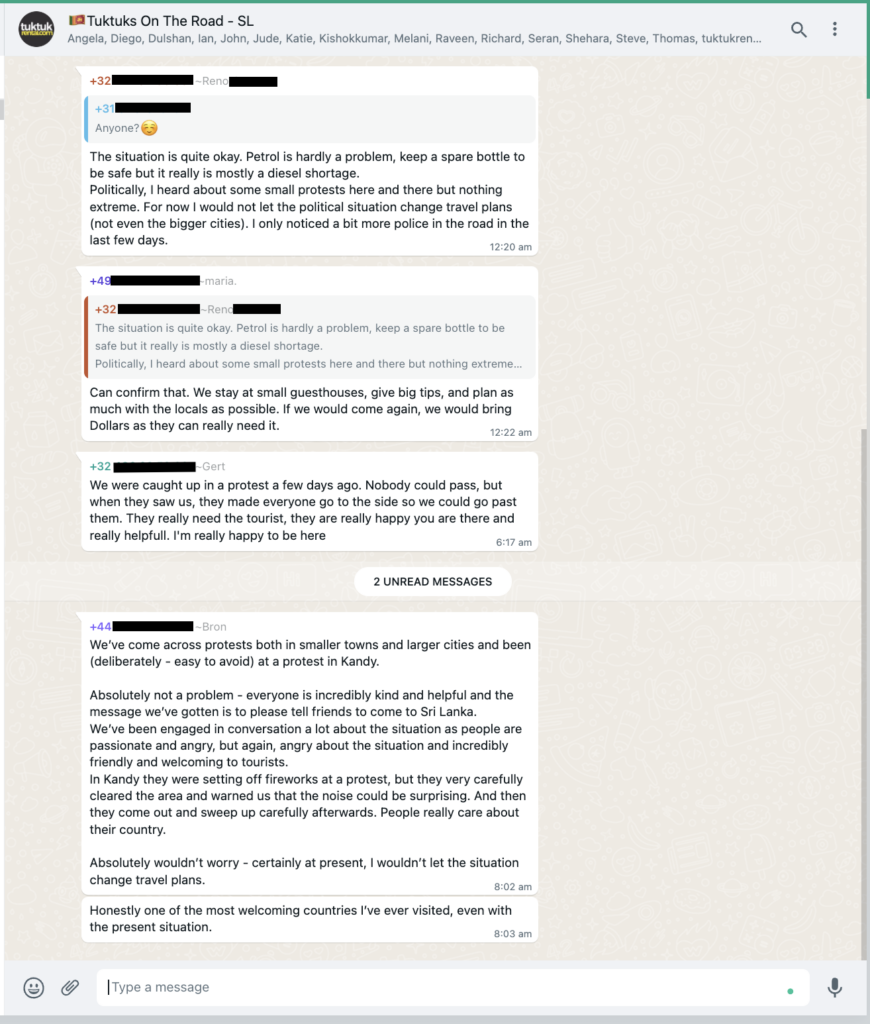 Why you should keep travelling to Sri Lanka!
All in all, these 'problems' such as power cuts, an occasional fuel shortage or a protest have always been common in Sri Lanka. We need to learn to live with it and adjust to the situation, locals and tourists alike. Fuel is now more difficult to find, so do keep that in mind. But we expect things to get better soon and things change every day.
The island is dependent on tourism for its foreign income! If there is no fuel, you can't travel around, and the country won't make money to buy more fuel. So the government will do everything in its power to make sure this doesn't happen.
So if I can give anyone who has doubts about their plans and travels any advice, please come to Sri Lanka. Now, more than ever, our island needs tourists. The two previous disasters, the 2019 Easter Sunday attacks and the 2020/2021 global pandemic, are ones we don't have (much) influence on.
Sri Lanka is now in an economic crisis due to a foreign currency problem, and a solution to this problem is YOU!
Future
The government has already started talks with the IMF. They have initiated a law firm to represent them during these meetings. All promising signs and this will result in drastic economic restructuring. What does this mean? Money from the IMF will come in; there will be fuel, diesel, electricity, food imports and anything necessary for the economy and public to live comfortably. Unfortunately, this will also mean a continuation of rising prices and higher taxes. But this, of course, will barely affect you as a tourist as prices are still cheap!
More information about renting a tuktuk in Sri Lanka: https://tuktukrental.com/initial-info
Book your tuktuk now: www.tuktukrental.com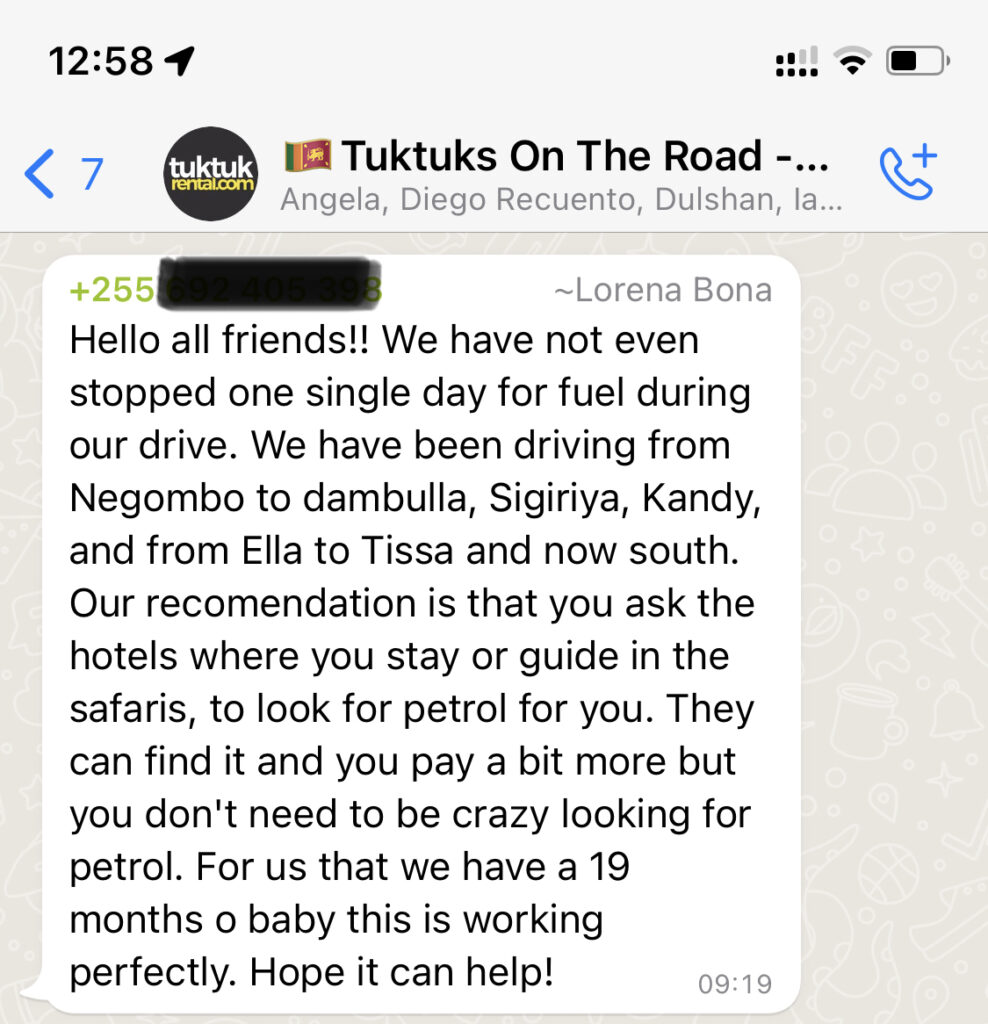 Live Updates on Sri Lanka's Economic Crisis
April 1st 2022 – Citizen-driven Protests
Citizen-driven protests are likely planned in 20+ cities and towns across the island on the 3rd of April. On the 1st of April, President Gotabaya Rajapaksha has declared a 'Public Emergency'. More information on what that means can be seen here.
April 3rd 2022 – More Fuel for Electricity
Energy & Power Ministry secretaries have informed that sufficient fuel will be provided to CEB for power generation. Hence, power cuts will be reduced considerably in days, says Janaka Ratnayake, Chairman PUCSL.
April 4th 2022 – Sri Lanka's entire cabinet resigns
All Cabinet Ministers have decided to resign from their ministerial portfolios and have tendered their letters of resignation to the Prime Minister. You can read more about it here.
This means the Ministers acknowledge there needs to change, and most probably, a caretaker government will be installed to take on the following steps in consulting the IMF, who will guide Sri Lanka out of the situation.
April 4th 2022 – Islandwide Protests
People have taken to the streets all over the island to protest the current government. These peaceful protests seem more like a solidarity festival than anything else. During the day, there were street corners with people with signs. In the evening, more took to the streets after work. We're seeing images of police joining the protests, all while keeping the peace. We have customers who chant with the crowd, welcomed by positive chanting back. Protesters are seen cleaning the streets afterwards. This is a local issue, and tourists are left out of it all. No reason not to come to Sri Lanka and support the country.
April 6th 2022 – Things have calmed down
No news about any protests anymore, just about the current political restructuring. A new finance minister was appointed, who has resigned again (read here). The state of emergency has been lifted (which didn't have an effect anyway – read here).
April 10th 2022 – Peaceful Protests Continue
The majority of the protests around the island have faded away and have now concentrated to the weekend in front of the Presidential Secretariat in Colombo. More info about it here.
April 12th to 17th 2022
Due to the Sinhala / Tamil New Year celebrations, followed by Good Friday, a Poya Day (full moon) Saturday, and then Easter Sunday, the supply to fuel stations have been severely impacted! Also, with many stations closed for the holiday, long queues for petrol and diesel have been experienced islandwide! From Saturday 16th of April onwards, many of these issues have largely been resolved, and we expect the coming week bringing things to normalcy again. More info here.
April 21st 2022 – Fuel Situation Update
We have gathered a few updates about the current fuel situation. For the past long holiday period from 12th April to 17th April, there was a distribution delay as most local citizens had a chance to visit their family and relatives after a long break since COVID 19 initially began to spread in the country, causing lockdowns and travel restrictions.
Delay in distribution was mainly caused as distributors were on a long 9 days holiday and also the few available were not enough to distribute for the whole country. Sri Lank has already received a credit line via India and immediate funds from China to further purchase fuel for daily consumption. This assures fuel coming into the country within the next few days. Please click here for more information about the supply of fuel and the new consignment of fuel to the country.
Fuel stations in big cities have had long queues, further away towards the North and East the fuel stations have stable fuel supply. Tourists are given main priority at fuel stations, as the local citizens know how important tourism is for the country.
June 24th 2022 – Fuel situation, fuel price and power cut updates!
The fuel situation changes very often and currently the country has gone from having small queues to longer queues due to the island-wide fuel shortage in the country. The country is awaiting a consignment of fuel on the 24th of June, but currently, there is no guarantee that it would arrive today.
It is said that the current price of fuel will increase, it has not increased officially, but we feel that this will be the case for the fuel shipment to have been on hold.
Power cuts have been reduced to 2.5 hours a day and the timings will vary according to different provinces.
June 26th 2022 – How is Sri Lanka holding up and tourism revival!
During the past week, the Sri Lankan government had to take very important decisions as to the latest fuel shipment arrival to the country was delayed until the 10th of July. This has caused the country to rely on a very limited supply of fuel until the new shipment. Currently, locals are asked not to queue at the fuel stations as the available fuel will only be distributed for essential services from specific stations. The government sector and schools have been closed in order to reduce the pressure on the public due to the fuel shortage.
Since the appointment of the new Tourism Minister, there have been few tourism revival plans set out for the country. Amount them are:
New members who are well experienced in the tourism sector were appointed for some of the tourism institutions to ensure the growth and stability of the sector.
Due to fuel shipment delays which have caused inconveniences for most industries, it was proposed to allow private companies to import their own fuel. We are also looking into this aspect, as it would help tourism growth.
A fuel emergency line for tourists currently travelling in Sri Lanka so that they can still complete their trip without interruption. This plan is still been streamlined and will be mainly until the new fuel shipment arrives in Sri Lanka.
In addition to the above, we would advise keeping a closer look at the situation updates before your arrival. Please get in touch with us if you would need additional information.
July 08th 2022 – Possible good news about fuel shipments.
Fuel shipments have been constantly delayed in June and finally, we have some good news about possible fuel shipments arriving in the month of July as below:
Between the 10th the 13th of July
Between the 22nd to 23rd of July
The president of Sri Lanka has also had several discussions with the Russian president Vladimir Putin to obtain a fuel consignment under a credit line and Russian delegates have arrived in Sri Lanka yesterday (07th July) for further discussions.
July 11th 2022 – Country situation and fuel update!
All Sri Lankans gathered on the 9th of July at the Galle Face green to support the people's power protests from around the island despite the fuel crisis. It was heartwarming to see how many people poured in throughout the day to overthrow the current President and Prime Minister. As a result of the protests, the President is due to hand over his resignation on the 13th of July.
Fuel supply was disrupted due to the mass protests organised during the weekend. LIOC resumed the distribution of Rs.1.5 million litres of fuel today (11th July) and fuel stations have been restored.
July 12th 2022 – President flees the country
The failed president makes a run for it. BBC.
July 14th 2022 – Petrol is coming!
Ceylon Petroleum Company has announced that petrol is arriving in Sri Lanka on the 17th of July! Read here.
July 15th 2022 – President Resigns
After months and months of protests, the president has finally stepped down. A big win for Sri Lanka, time now to put the differences aside and move forward together.
July 20th 2022 – New President takes the office

Following a Parliament election, the new President takes oath as the 8th Executive President in Sri Lanka. It is a start in the journey of restructuring the country's economy. IMF agrees to fast-track discussions with the monetary aid to Sri Lanka.
July 21st 2022 – Launch of the National Fuel Pass

A new National Fuel Pass system was introduced to selected filling stations in Colombo. Registered vehicles on the National Fuel Pass system will receive a weekly quota of fuel which will be scanned & verified via QR code. This is still in the pilot stage, where authorities plan to expand island-wide. So far this system will not affect your travels in Sri Lanka!
More Petrol shipments have arrived and undergoing quality testing!
July 29th 2022 – What's new?
The past week has been hopeful regarding fuel availability and new fuel shipment updates around the island. Let's get into the details.
Two fuel shipments arrived between the 17th and 22nd of July, making fuel availability much smoother. Our customers on the road can fill up at different destinations without much hassle. There are few locations where fuel availability is not very constant, but the availability is every 2 to 3 days a week.
New shipments are arriving in the mid – August for Petrol 95. Previously, petrol 95 was majorly allocated for essential services.
August 10th 2022 – New decisions for Tourists to obtain Fuel!
The introduction of the QR code system has taken off a great deal of stress from the locals. Tourists can fill up without this QR code and many stations around the island.
The tourism Minister has brought forward a committee to ensure that tourism services are still supported and to introduce a new method for tourists to fill up without a hassle.
August 20th 2022 – New fuel shipments to arrive!

Crude oil shipment to arrive in Sri Lanka between the 23rd – 29th of August. This will help the Sapugaskanda oil refinery to continue its operations in converting crude oil to gasoline and diesel. A new shipment of 35,00MT of petrol arrived in Sri Lanka on the 12th of August.
August 25th 2022 – Fuel pass for Tourist vehicles
The awaited update for tourists is here! The government plans to introduce a new quota system for tourist vehicles as fuel pass. new information about the system procedures has not been updated as yet.
September 9th 2022 – Fuel system for Tourists
From next week the Tourist Fuel Pass system will be launched. You can buy a card at selected Sampath Bank branches (local bank), top up with USD/EURO (or any other international currency), and use that card at selected Fuel Stations islandwide. We have a dedicated fuel map with a list of banks to help our customers.
This fuel card helps you to pump UNLIMITED FUEL at stations. These cards will also be available at the airport for purchase. We are awaiting more information and will update you as soon as we receive them.
October 21st 2022 – Fuel Pass Card is now available
The wait is over, and Sri Lanka introduced its first Fuel Pass Card (Per-Paid Fuel Card) on the 05th of October 2022 at the Bandaranaike International Airport.

We have made a special blog post dedicated to it. You can find further details about this card here.