There have been many worldwide new reports on the economic situation in Sri Lanka and the stories of fuel shortages and electricity cuts that come with it. As we're in the tourism industry and the rental business, tourist and fuel is essential to our operations. We monitor the situation very closely and like to share more information about it. But most importantly, why you, as a tourist, should travel to Sri Lanka now more than ever!
Fuel Shortages
You've probably seen the messages in the news regarding long queues at petrol and gas stations in Sri Lanka, with police and army monitoring. Before this news hit internationally recently, this already hit the Sri Lankan news weeks back. What resulted is a massive run to petrol stations and people wanting to fill up before it 'runs out', but what happens when everyone wants to fill up simultaneously? Exactly, long queues and it runs out even quicker. Resulting in a temporary shortage till they get filled up again. Fuel stations are generally quite busy, especially in the western part of the island, which is more densely populated.
When this crisis started, there was however, a massive Diesel shortage. This affected buses, trucks, trains and power/electricity supply (which I will get to later). We have seen long queues for Diesel one day but solved the next day. It depends on which station gets filled up and where the queue occurs. Many shipments are coming in now again and it the problems are much less than it was before.
Petrol is what is most important to tourists renting a tuktuk. In general, our customers and other tourists are not having much trouble finding petrol. There was a couple of weeks of petrol shortage around Kandy (long queues), but that has largely been solved since then. Currently, islandwide you will encounter issues with finding petrol, but this will be there one day but solved the next.
Now, as there are also power cuts, the electrical pumps don't work, and thus the fuel station is closed. If there is electricity, this results in long lines, makes sense, right?
Were posting updates about the situation at the end of this blog!
We've had customers drive around finding fuel stations with long lines, to drive to the next one, which is closed, but the next one has no lines! There is no sense to make in all of this, other than many people starting to panic when they see a queue thinking it's running out, so they join the queue to be sure!
Fuel Pass
As we are registered with the Sri Lanka Tourism Development Authority, we have received a special pass that allows you to jump queues and receive a full tank of fuel! Many of our customers have used this with success.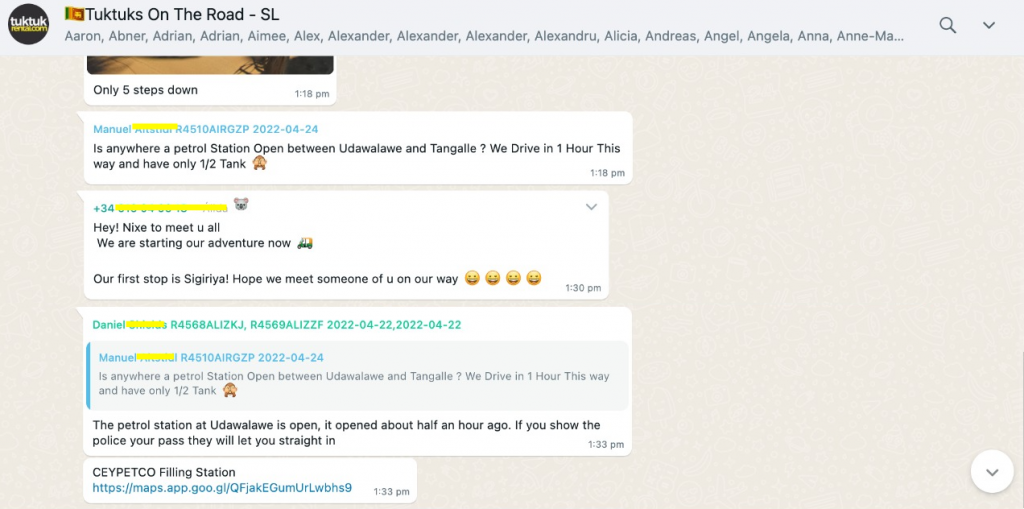 The Friendly Sri Lankan People
As Sri Lanka is a country dependent on tourism, there are many people willing to help! Our customers have been experiencing that people in queues insist they go first, police that have let them pass petrol queues, fuel station managers that ask them to come forward, and the list goes on!
But even hotel owners that have extra fuel stored at their places or send someone to get fuel for you, truely the hospitality of the people towards tourists in this crisis has been amazing.
I think everyone understands that tourists bring foreign currency to the country, so it's best they have no hinder to the current economic situation on the island.
Foreign currency crisis in Sri Lanka and its effects on the economy
The reason for all this is that Sri Lanka has been having some problems with its foreign currency reserves (Euro and USD on the central bank account) for quite some time. Since the 2019 easter attacks and then the COVID pandemic, less foreign currency has come into the country to buy essential and luxury products from overseas, for which you need foreign currency to purchase.
For example, since 2020, there has been an import ban on vehicles. This includes tuktuks! Resulting in a thriving second-hand market where a tuktuk which cost 1 million LKR in 2020, costs a whopping 1.6 million rupees now!
Spare parts, for instance, also don't get into the country. Resulting in increased prices for spare parts to fix tuktuks. Oil is the same story, getting quite expensive. We, however, continue to offer our product at the same rates to tourists but have chosen to raise the rates we pay our tuktuk owners.
At the moment, tourists are one of the largest sources of foreign currency to the island. But with the war in eastern Europe, tourists from Russia and Ukraine have declined rapidly, who have always been large contributors to the tourist economy. Besides that, many exports like tea which go to these countries, have decreased.
Rupee Depreciation
The value of the Sri Lankan rupee is declining rapidly. As a result your Euros and US dollars are worth much more in the country!
Fuel Prices
As a result of the economic situation and foreign currency crisis in Sri Lanka, fuel prices have increased a fair bit from before. Now before this scares you, let's look at what fuel prices and what it means for you as a tourist in terms of pricing:
Compared to most of the western countries where fuel is around the 2 $/€ mark and even in neighbouring India, fuel and petrol is still super cheap in Sri Lanka!
Food Prices
Besides fuel, prices for some food items have also increased. But similar to fuel, the prices are still very cheap for tourists! If not cheaper due to the rupee depreciation. You get more value for your money at the moment!
Power-cuts
The foreign currency shortage results in limited diesel and coal imports, impacting the amount of electricity the fossil fuel plants can produce.
This resulted in 3 to 4 hours of no electricity spread out during the day, sometimes 6 to 8 hours in some areas. For example, at our office near the airport, we had a 2-hour power cut from 6 am to 8 am and then again from 2 pm to 4 pm. However, this changed daily! Since this week (end of March) there have been some nightly power cuts.
This, of course, also influences petrol stations as they need electricity to use the pumps. This results in many hours of not being able to fuel up and then longer queues when there is electricity again. That makes sense, right?
Will this affect you? Yes, of course, but does it make your experience less enjoyable? I don't think so. The way I see it, and what feedback we're getting from our customers, is that you're exploring, visiting sights, driving around, and enjoying the country during the day. Do you need electricity for this? Not really. I don't know what effect having no power will be on you climbing Sigirya or surfing in Hiriketiya, but seems to me that this is not a big problem. Nighttime power cuts are annoying, though, especially if your hotel does not have a generator and it's hot, but this doesn't last forever, luckily.
Power cuts sometimes happen in the evenings, resulting in a candlelight dinner or drinking your beers and enjoying the warmer climate while looking at the stars. Doesn't sound like too much of a problem to me!
Bring a power bank to charge your phone when there is no electricity. A headlight/torch is also recommended. Most bigger hotels and restaurants have a generator anyway.
Protests
The economic situation affects the local population a lot. They are suffering from the rising prices, not being able to work due to the power cuts and can't take the bus as there is no diesel to fuel the thermal power plants or water in the reservoirs to produce electricity for the hydro plants. All in all, the people are fed up and taking to the street to protest about the situation and demand the government to take action or step down.
The protests mainly occur in Colombo, near the presidential and political headquarters. Occasionally in other parts of the capital or in other cities.
But what I have learned from living in Sri Lanka for many years, including during the civil war, is that tourist areas are very rarely affected by protests. I don't expect unrest in Mirissa, Ella, Arugam Bay, or Unawatuna, for example. Tourists have always been protected from these types of civil unrests, so don't be afraid this will impact you. In the very unlikely event you happen to find yourself in a protest. You won't be affected other than hearing the complaints of the local population about the situation.
News on the ground (live from our customers)
News on the ground is that in the north and east, things are very, very quiet! No protests; everyone is going about their lives. With added advantage, that part of the island is in season! Beautiful beaches around Trincomalee, great surf around Arugam Bay. Time for you to head over there! Check out our Arugam Bay guide here.
We've got an on-the-road WhatsApp group where our team give updates/advice, and we've got very knowledgeable Sri Lankans giving even more advice and tips. But most importantly, we get feedback from our customers, tourists in Sri Lanka, on how there are experiencing the situation which I think speaks for itself: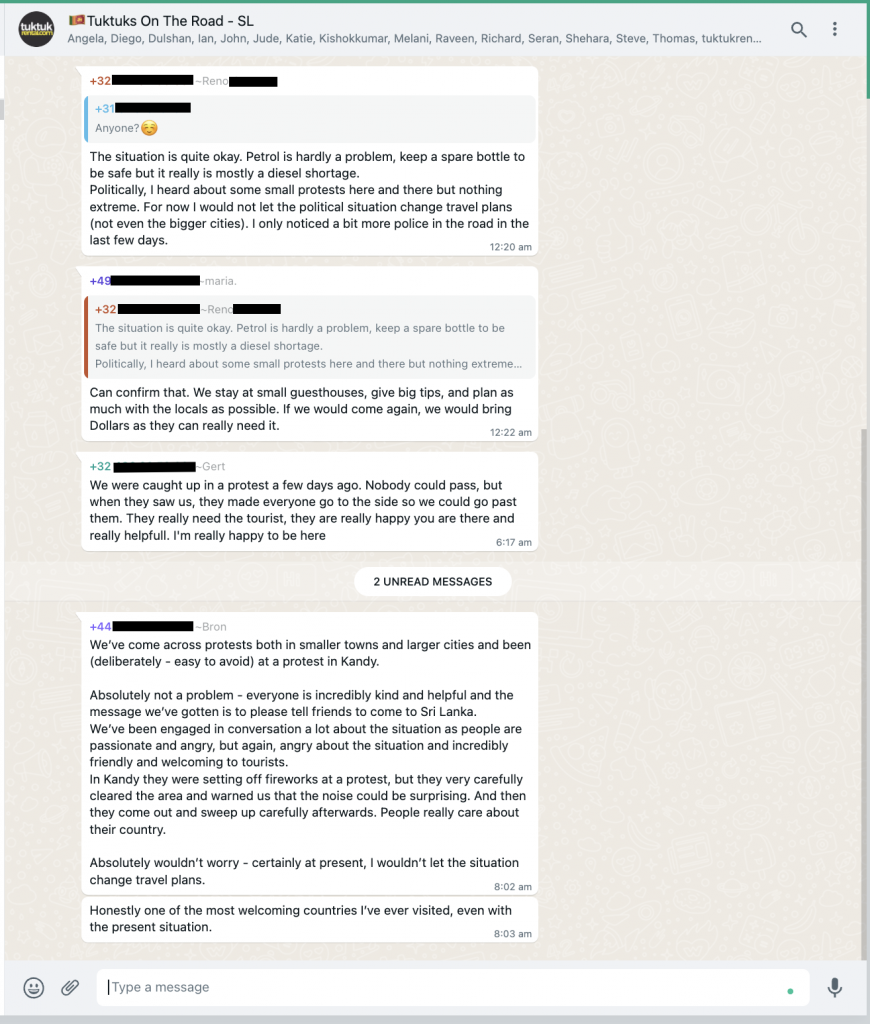 Why you should keep travelling to Sri Lanka!
All in all, these 'problems' such as power cuts, an occasional fuel shortage or a protest have always been common in Sri Lanka. We need to learn to live with it and adjust to the situation, locals and tourists alike.
The island is dependent on tourism for its foreign income! If there is no fuel, you can't travel around, and the country won't make money to buy more fuel. So the government will do everything in its power to make sure this doesn't happen.
So if I can give anyone who has doubts about their plans and travels any advice, please come to Sri Lanka. Now, more than ever, our island needs tourists. The two previous disasters, the 2019 Easter Sunday attacks and the 2020/2021 global pandemic, are ones we don't have (much) influence on.
Sri Lanka is now in an economic crisis due to a foreign currency problem, and a solution to this problem is YOU!
Future
The government has already started talks with the IMF. They have initiated a law firm to represent them during these meetings. All promising signs and this will result in drastic economic restructuring. What does this mean? Money from the IMF will come in; there will be fuel, diesel, electricity, food imports and anything necessary for the economy and public to live comfortably. Unfortunately, this will also mean a continuation of rising prices and higher taxes. But this, of course, will barely affect you as a tourist as prices are still cheap!
More information about renting a tuktuk in Sri Lanka: https://tuktukrental.com/initial-info
Book your tuktuk now: www.tuktukrental.com
Live Updates on Sri Lanka's Economic Crisis
April 1st 2022 – Citizen-driven Protests
Citizen-driven protests are likely planned in 20+ cities and towns across the island on the 3rd of April. On the 1st of April, President Gotabaya Rajapaksha has declared a 'Public Emergency'. More information on what that means can be seen here.
April 2nd 2022 – Island-wide Curfew till Monday 4th of April
An island-wide curfew has been imposed today April 2nd at 6 pm. The curfew order will be effective until 6.00 am on Monday the 4th of April. Official Government Gazette can be found here.
In reality, many tourists and tuktuk rental customers have been driving around without any issues. Added advantage: no queus at petrol stations!
April 3rd 2022 – Restricted Access to Social Media (incl. WhatsApp) in Sri Lanka
The Director-General of the Telecommunications Regulatory Commission of Sri Lanka (TRCSL) has announced that service providers have been advised to temporarily restrict access to social media websites at the request of the Ministry of Defence. More news about it here.
April 3rd 2022 – More Fuel for Electricity
Energy & Power Ministry secretaries have informed that sufficient fuel will be provided to CEB for power generation. Hence, power cuts will be reduced considerably in days, says Janaka Ratnayake, Chairman PUCSL.
April 4th 2022 – Sri Lanka's entire cabinet resigns
All Cabinet Ministers have decided to resign from their ministerial portfolios and have tendered their letters of resignation to the Prime Minister. You can read more about it here.
This means the Ministers acknowledge there needs to change, and most probably, a caretaker government will be installed to take on the following steps in consulting the IMF, who will guide Sri Lanka out of the situation.
April 4th 2022 – Islandwide Protests
People have taken to the streets all over the island to protest the current government. These peaceful protests seem more like a solidarity festival than anything else. During the day, there were street corners with people with signs. In the evening, more took to the streets after work. We're seeing images of police joining the protests, all while keeping the peace. We have customers who chant with the crowd, welcomed by positive chanting back. Protesters are seen cleaning the streets afterwards. This is a local issue, and tourists are left out of it all. No reason not to come to Sri Lanka and support the country.
April 6th 2022 – Things have calmed down
No news about any protests anymore, just about the current political restructuring. A new finance minister was appointed, who has resigned again (read here). The state of emergency has been lifted (which didn't have an effect anyway – read here).
April 10th 2022 – Peaceful Protests Continue
The majority of the protests around the island have faded away and have now concentrated to the weekend in front of the Presidential Secretariat in Colombo. More info about it here.
April 12th to 17th 2022
Due to the Sinhala / Tamil New Year celebrations, followed by Good Friday, a Poya Day (full moon) Saturday, and then Easter Sunday, the supply to fuel stations have been severely impacted! Also, with many stations closed for the holiday, long queues for petrol and diesel have been experienced islandwide! From Saturday 16th of April onwards, many of these issues have largely been resolved, and we expect the coming week bringing things to normalcy again. More info here.
April 21st 2022 – Fuel Situation Update
We have gathered a few updates about the current fuel situation. For the past long holiday period from 12th April to 17th April, there was a distribution delay as most local citizens had a chance to visit their family and relatives after a long break since COVID 19 initially began to spread in the country, causing lockdowns and travel restrictions.
Delay in distribution was mainly caused as distributors were on a long 9 days holiday and also the few available were not enough to distribute for the whole country. Sri Lank has already received a credit line via India and immediate funds from China to further purchase fuel for daily consumption. This assures fuel coming into the country within the next few days. Please click here for more information about the supply of fuel and the new consignment of fuel to the country.
Fuel stations in big cities have had long queues, further away towards the North and East the fuel stations have stable fuel supply. Tourists are given main priority at fuel stations, as the local citizens know how important tourism is for the country.
April 22nd 2022 – Locals to the rescue!
As Sri Lanka is an amazingly hospitable country, everyone is willing to help! Not only will you be asked to go in front of petrol queues, but your hotel owner or safari vehicle provider will go out of their way to get you petrol while you enjoy the accommodation of other activities. You sometimes have to pay a bit more, but this is still cheaper than what you would pay in almost all other countries (fuel in Sri Lanka is subsidised and extremely cheap).