The Tourist Fuel Pass Card is a unique foreign currency top-up card introduced during Sri Lanka's economic crisis. Tourists can use it to get unlimited fuel and priority access at fuel stations when self-driving a tuktuk around Sri Lanka.
The Ministry of Power and Energy, the Ministry of Tourism and Lands, Dialog telecommunications and Sampath Bank have launched the Tourist Fuel Pass or Card to help tourists with fuel quickly when self-driving around the island.
You top-up the card with foreign currency (currently, it only supports US dollars or other hard currency (which then gets converted) into cash), which then again gets converted into Sri Lankan Rupees (LKR) at the daily bank rate. You can use it at 300+ selected fuel stations around the island that support this facility. The card itself costs $5. You can top up between $50 (minimum) and $300 (maximum) at a time. Dialog, which facilitates the service, takes around a 1.5% handling fee of the sum paid.
Should I get the Tourist Fuel Pass Card?
After about two months after introducing the card, we do not think getting the Tourist Fuel Pass Card is very advantageous. The process at Sampath Banks is exceptionally long, and no one wants to waste time during their holiday. The card is not widely excepted, even though the official website state otherwise. Many fuel stations have no clue what it is or don't have an NFC facility to support it. Our customers have brought many cards back, unable to utilise them.
But most importantly, as a tourist driving a tuktuk, you can still quite easily and quickly get petrol at fuel stations around the island without significant issues! You often will only get 5 litres, but this is enough for your next destination.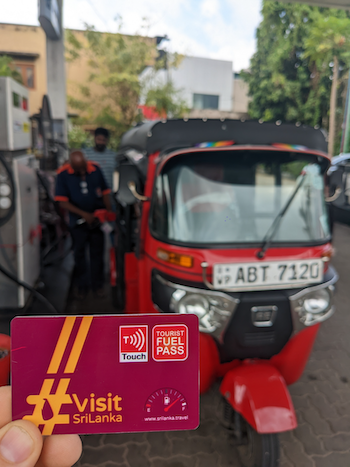 Where can I buy the Tourist Fuel Pass Card in Sri Lanka?
The card can (currently) only be bought at all Sampath Banks around the island and the Sampath Bank Currency Counter at the Colombo International Airport in Katunayaka (the first counter when you enter the arrival halls). However, we have been informed that in the future, this card can also be bought at Dialog shops.
Please note this process can take anywhere between 1 and 2 hours, depending on the location of the Sampath Bank.
Please refer to the map below (sent to all customers) or find a branch through the official site here.
What do I need to buy the Tourist Fuel Pass Card in Sri Lanka?
To buy this card, you will need to have the following:
Your Passport from the Country of Origin
Valid Sri Lanka Visit Visa (Tourist or Business)
Hard Foreign Currency in CASH! (In the future, they might introduce card payments, including online payments).
Sri Lankan phone number and mobile phone to activate.
What do I need to do to buy the Tourist Fuel Pass Card in Sri Lanka?
Enter the bank and ask for the banking officer in charge of Accounts Opening or the Foreign Currency Exchange Officer.
You will need to fill out two forms.
Form 01: Tourist Fuel Pass – Issuance/top-up/refund
This form captures the information the bank needs to open the Tourist Fuel Pass Card against your passport number.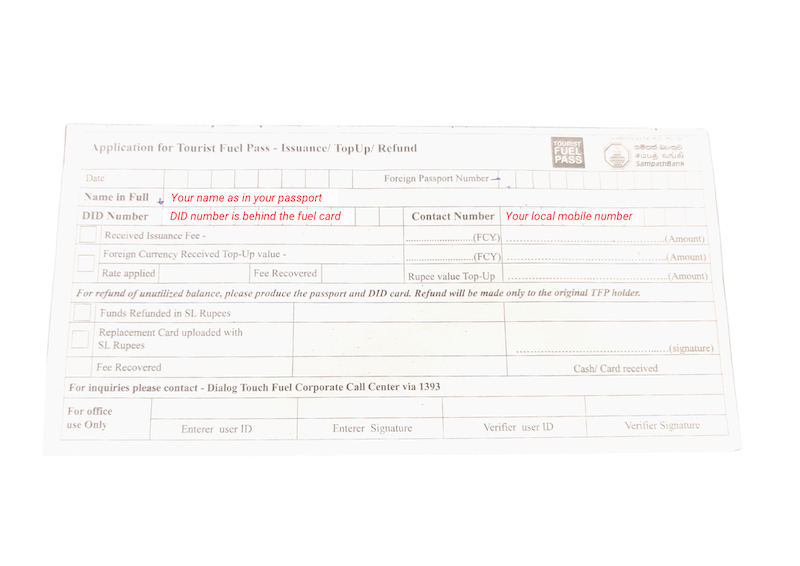 Form 02: Purchase of Foreign Exchange by an Authorized Dealer
The following form will record the deposit amount to the Tourist Fuel pass.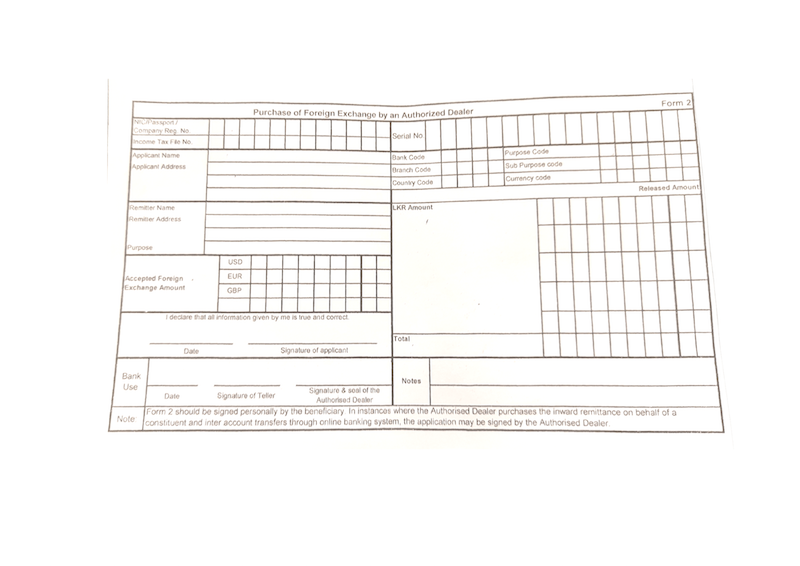 Where can I find Fuel Stations where I can use the Tourist Fuel Pass Card in Sri Lanka?
You can use the Tourist Fuel Pass Card at around 300+ Fuel Stations around Sri Lanka. These fuel stations are equipped with an NFC payment system, the same system used by Corporate Fuel Cards.
Please find a map of all the Fuel Stations below. Our customers will have access to the digital version of this map to navigate there easily. In addition, you can find a list of the stations here.
You can also download the Touch ID Fuel mobile app by Dialog in the Apple App Store or Google Play Store to access this same map. Steps to take:
Log in with details given to the bank.
This contains a map with all stations.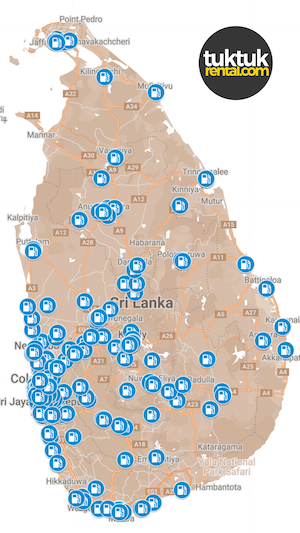 What are the costs involved, and how much can I top-up to the Tourist Fuel Pass Card in Sri Lanka?
The card costs $5, and you can top-up a minimum of $50 (every time) and a maximum of $300 per time. Do note that the Sampath Banks currently only accept hard currency (currency that is not likely to depreciate suddenly or fluctuate significantly in value). Examples are United States Dollar, Euro, Great Britain Pound, Australian Dollar, New Zealand Dollar, Singapore Dollar, Japanse Yen, etc.). During the weekend, Sampath Bank only accepts US Dollars. However, the bank agrees with any other hard currencies during weekdays.
How much should I top up to the Tourist Fuel Pass Card?
Self-driving a tuktuk around Sri Lanka will average about 20km per litre. However, our data from 6 years of self-driving tuktuk rental customers indicate that you'll drive around 80km daily on average.
A litre of petrol currently costs 410LKR. Please refer to our overview here.
A tuktuk drives 20km for the litre on average.
$50 gets you around 18300LKR on the Tourist Fuel Pass Card, which is approximately 44.63 litres and about 893 kilometres of driving.
100km = 5 litres which costs 2050LKR, which is about $5.60 (USD)
You'll average roughly $0.056 (USD) per kilometre of self-driving a tuktuk.
Since we're unsure if the minimum top-up value after the initial top-up is still $50, please consider the above. Best to have a bit more than too little and spend another $50.
Where can I see the balance credit on my Tourist Fuel Pass Card?
You can download the Touch ID Fuel mobile app by Dialog in the Apple App Store or Google Play Store to access this same map. Steps to take:
Log in with the number displayed on the physical card.
Activate your account with the code sent to your Sri Lankan mobile number.
This app shows your balance credit and the fuel station map.
How can I use the Tourist Fuel Pass Card?
You visit one of the dedicated fuel stations with the NFC / Corporate Fuel Card / Tourist Fuel Pass Card facility (see map above). The link to the map is available for tuktukrental.com customers for easy access. Here are the steps to take:
Rock up at one of the dedicated fuel stations.
Say that you want to pay with the Tourist Fuel Pass Card.
Say how many litres you want, or pump a full tank.
The shed employee will pump the fuel.
Then the employee will come with the particular card machine reader.
You tap (wireless), and the receipt comes out.
All done! No time is wasted, and you're back on the road with petrol for your tuktuk.
When leaving Sri Lanka, do I get back the balance money on the Tourist Fuel Pass Card?
Yes, you do. However, this will be in Sri Lankan Rupees. When you rent from tuktukrental.com, we'll buy the balance card from you and refund the money with your deposit bank transfer to your international bank account. Alternatively, you can use the balance on your Tourist Fuel Pass Card to extend your tuktuk rental booking!
How long is the Tourist Fuel Pass Card valid?
The card is valid for two years and is not linked to your tourist visa. This means you can leave the country and use it again! But also, you can give/sell the card to other tourists if you still have a balance remaining.
Who can buy the Tourist Fuel Pass Card in Sri Lanka?
The Tourist Fuel Pass Card is available for all temporary foreign tourists visiting Sri Lanka with a valid Visit Visa (Tourist or Business). Unfortunately, this facility is not (yet?) available to any other Foreign Passport Visa holders or businesses with foreign currency reserves.
Information about the Tourist Fuel Pass Card which is still unknown:
Sampath Bank Negombo Branch and a friend at Dialog informed us it would be available at all Sampath Bank Branches. Still, we doubt this will be in the smaller villages outside the mainstream tourist routes. We will verify and update this information in due time.
Refer to the terms of usage of the Tourist Fuel card published by the Ministry of Power & Energy. If you're on the island, you can contact the hotline at 1393 for quick assistance.
Can I buy the Tourist Fuel Pass Card with my Residence Visa?
Unfortunately, no or not yet. Unsure why, as many foreign residence visa holders are paid through overseas companies and have forex to spend.
Why is the current QR code system not being used?
This we do not know, as it would be straightforward to leverage a system already in place. For example, a tourist arriving in Sri Lanka would get a unique QR code at the airport which they top-up with forex. Then show their passport at a fuel station, receiving the same benefits as the current Tourist Fuel Pass Card.
Is the Tourist Fuel Pass Card useful in Sri Lanka?
In the last few months, even during the beginning of the fuel crisis with severe shortages and long queues. Towards the introduction of the QR code system, our customers self-driving a tuktuk have not had many issues getting petrol around the island. 9 out of 10 times, you will get priority access even if there is a queue (which is hardly there anymore, except for the relatively small ones in Colombo), a full tank, and you don't even need to show them a QR code!
As we're registered with the Sri Lanka Tourism Development Authority, and tourism has been named an essential service by the Minster of Tourism, we have received a letter which our customers have been able to show at stations to get unlimited priority fuel anyway. But most importantly, the amiable Sri Lankan people will help you. Insisting you go to the front of the queue and get a full tank!
We've experienced that tourists self-driving a tuktuk, the authentic mode of transport of the people of Sri Lanka, are rarely hindered by the country's local problems.
This card will eventually be the norm, as the fuel stations will be advised on the new procedure. Also, there will be minor errors and inconsistencies that need to be fixed. Examples are introducing online top-ups, removing the $50 minimum top-up and enabling the facility for Travel Agents who unburden the hassle by organising whole tours for their guests. But these are reasonable first steps to make it easier for tourists.
As of today (27th of November 2022), our ideas towards these cards are still very mixed. Most fuel stations that should have the facility don't have it or don't know what it is, which is very confusing for visiting tourists. You can still get fuel without it at most fuel stations, especially Lanka IOC, who have been amazingly supportive throughout the crisis in Sri Lanka.