On Sri Lanka's east-coast is a famous little surf-town called Arugam Bay. The main season is between March and September, when many people find their way to the bay for surfing, the occasional beach party, spotting elephants on a (lagoon) safari or relaxing on the beach. Abay is even known for some interesting historic or religious sights. This part of Sri Lanka is definitely not to be missed! Here is your ultimate guide on everything you need to know about – and things you can do in – Arugam Bay!
Arugam Bay (Arugambay) or Abay, as it is popularly known, is the unofficial name given to the bay south of the small town of Pottuvil, located in the Ampara District of Sri Lanka's Eastern Province. The area was first introduced with tourism when the adventurous backpackers and surfers visited the bay back in the 1970s.
Table of Contents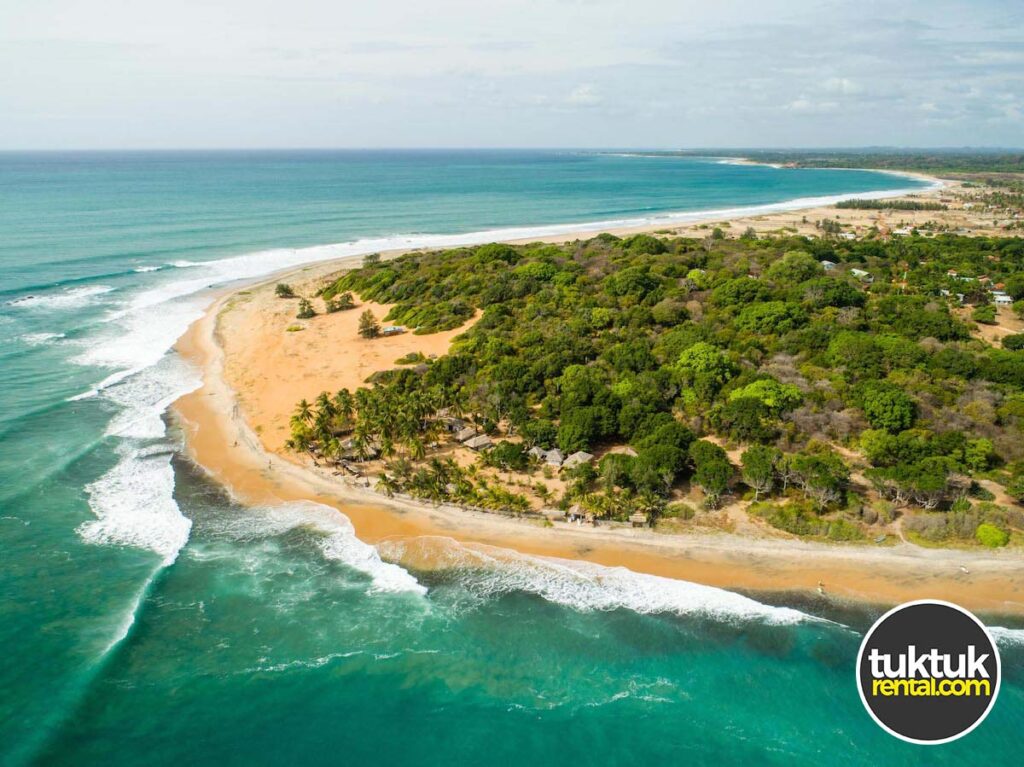 How to get to Arugam Bay
From Colombo, the Bandaranaike International Airport or Negombo it is anywhere between 6 and 16 hours to reach Abay. Depending on the mode of transport and time of travel.
Taxi
Taking a taxi is the quickest, but also the most expensive. For the sake of keeping it simple, in this guide, we will use Colombo to Arugam Bay taxi as an example.
This journey will costs anywhere between 14.000LKR (approx. $80) to 25.000LKR (approx. $115) depending on the type of vehicle. You can either book it through a taxi company, or use Uber or the Sri Lankan equivalent PickMe.
Public Transport
There are several ways to get to Arugam Bay by public transport. A daytime bus, night bus or part train and bus.
Bus
To get into Arugam Bay by public bus, you need to travel to Pottuvil. From there, there is a not so frequent bus going to Panama which passes Arugam Bay. It could be easier to take a tuktuk for the last leg of the journey, of which there are enough waiting next to the Pottuvil bus stand.
In general, we advise travelling from as early as possible. The later it gets, the less frequent there are buses and the lower the chance of you reaching your destination.
South to Arugam Bay
When coming from the south (Galle, Matara, Mirissa, Tangalle, etc), you can get the bus to Monaragala and then the bus to Pottuvil (last bus leaves at 5 pm).
Note: often people will say there are no more buses to Pottuvil (from Monaragala/Akkaraipattu) and offer you their tuktuk. This is most likely a scam to get you to pay them for the service. Always best to ask an official at the bus stand.
Batticaloa/Trincomalee to Arugam Bay
Make your way down to Akkaraipattu (through Kalmunai) with one of the frequent buses. From there, take the bus to Pottuvil.
Kandy to Arugam Bay
The quickest way would be to take the AC direct bus to Ampara, from there the bus to Akkaraipattu and then to Pottuvil (however there could be a direct bus Ampara – Pottuvil as well).
Ella to Arugam Bay
Get the bus to Monaragala, either direct or stopover in Wellawaya. From there you take the bus to Pottuvil (last bus at 5 pm).
Negombo / Colombo Airport to Arugam Bay
When coming from the airport, take the bus to Colombo Fort station (EX187 is the fast highway bus). Otherwise, the normal bus from Negombo or the highway bus from Negombo bus station. From there, follow the description below.
Bus from Colombo to Arugam Bay
As of February 2019, there are about 5 to 6 buses between Colombo and Arugam Bay (Pottuvil). They travel through the night and take about 7 hours. There are 2 Luxury-AC buses and the rest are regular buses. There are a few private buses which can be booked through this website.
Colombo to Arugam Bay – Departure Times
7:30 pm (two private luxury AC buses with that leave from the Bismallah Lodge – see description below.
8:45 pm – red government bus from the main bus station
9:00pm – red government bus from the main bus station
9:30pm – red government bus from the main bus station
10:15pm – private bus from the private bus station that can be prebooked through busbooking.lk
Bismallah Lodge – Tickets for the luxury AC bus can be bought at the Bismallah Lodge in Colombo. The destination of this bus is Akkaraipattu and passes Pottuvil (Arugam Bay), please note there are only 10 reservable seats for Pottuvil! The lodge is located just behind the buildings on the main road.
Train to Arugam Bay
There, unfortunately, is no direct train to Arugam Bay. You always have to take the last length of the journey by another mode of transport. There are two trains that go in the direction of Arugam Bay, the train to Ella/Badulla and the train to Batticaloa. From there, you can follow the description as mentioned in the bus section above or take a taxi.
Rent you own tuktuk!
By far the best way to explore Arugam Bay is to have your own tuktuk! Strap your boards on the roof and drive yourself to the many surf-breaks, drive off-the-beaten-track and spot elephants right of the side of the road, to explore the many historical and archeological sights this area has to offer.
We highly recommend driving your tuktuk all the way to Arugam Bay, amazing roads and sights you should not miss. But, if you are already in Arugam Bay and would like a tuktuk, we are offering a special discount for the readers of this guide. Please contact us through hello@tuktukrental.com and mention the discounted rate request!
Weather and the best time to visit Arugam Bay
There is a lot of things you can do in Arugam Bay, but this all depends on the weather. It is important to know that the main season in Arugam Bay runs from March to October, with peak season in the months of July and August. This means, in that period, you will get the sunniest days, best surf, the nicest waves, enjoyable sea to swim and of course when most activities are happening.
Dry Season in Arugam Bay
March to September is considered the main dry season in Arugam Bay, although you could have a day or two of rain as well (you never know on a tropical island!). With March to June being the hottest and then from July onwards there is a bit more wind to cool you down.
Rainy Season in Arugam Bay
The main 'monsoon' in Arugam Bay is the Maha Monsoon, which lasts from October to January with the peak in December and January. However, this is not a period of constant rain. There can be a week or rain followed by days of sun.
Never trust the weather forecast
In general, in Sri Lanka, you cannot really trust the online weather forecasts. It often says it rains the whole day, most of the time you can ignore this. For the best advice, ask the locals!
Surfing in Arugam Bay
Arugam Bay is arguably the best place for surfing in Sri Lanka. With eight main breaks located just 20 to 40min away, you can surf at a new break every day of the week, it caters to both professionals and beginner surfers from all around the world.
Surfing can be done year round but the surf is at its best from May and till October. In these 6 months, the swell from the south/south-east shifts sand transforming the bays for the perfect waves. The best months for surfing are in the months of July, August and September as all the breaks will be in full throttle!
Surf-breaks in Arugam Bay
Main Point
Elephant Rock
Lighthouse
Whiskey Point
Pottuvil Point
Peanut Farm
Panama
Okanda
How to get to the surf spots of Arugam Bay
You can get to the different spots by tuktuk, which charge around 1000LKR to 3000LKR one way and can get quite expensive. Arugam Bay is also known for what they call the 'tuktuk mafia', which keep prices high and allow only a maximum of two surf-boards on the roof of the tuktuk, meaning you having to take a second tuktuk if with 2+ people. For this reason, renting a tuktuk in Arugam Bay is your best bet when you're here for the surf!
Swimming in Arugam Bay
If you are not an experienced swimmer, we recommend you to swim closer to the head of the bay where the waves are calm. Further out, waves tend to get bigger but also more exciting!
There are a couple of hotels with pools, mainly for in-house guests but they could allow you to swim there after buying a ticket.
Nature and wildlife of Arugam Bay
Arugam Bay is remotely located on the south-east coast of Sri Lanka. Besides Pottuvil, Panama and Arugam Bay, it's very lightly populated and covered in mainly dry-zone forests. As it's so remote, quite some wildlife can be seen in this area. Make sure you go spot some elephants!
Kumana National Park
To the south, near Okanda, you will find Kumana National Park. Originally part of the larger Yala National Park, bordered by the Kumbukkan Oya river which also is the border between eastern and southern province. In this park, you will find a large variety of birds, deers, elephants, but also the occasional leopard and sloth bear. Safari jeeps can be organised from Arugam Bay itself, with which you can enter Kumana National Park after purchasing a ticket.
Kudumbigala Sanctuary
Just before you enter Kumana National Park, you drive through Kudumbigala Sanctuary. A semi-protected area with lagoons and waterholes. In this area you can already often spot elephants and is easily accessible by car, tuktuk or even scooter from Arugam Bay.
Lahugala Sanctuary
North-east of Arugam Bay, when you come from Monaragala, you pass through Lahugala Sactuary. A small park where many elephants can be seen drinking by the waterholes. Watch out when driving through, they often cross the road!
Crocodile Rock
East of Panama, in the forest is Crocodile Rock. Officially known as Panama Wewa this place got its nickname Crocodile Rock from the many crocodiles that can be seen in the water. You can drive a fair bit around the park and for the adventurous ones, feel free to continue the drive into the jungle!
Lagoon Safari
You will find many lagoons around Arugam Bay to do a lagoon safari, many of which will be promoted by various tuktuk drivers. But the one we feel is the most authentic and original is the one at Urani Lagoon. Just north of Arugam Bay and is run by the local lagoon fisherman, so while you have a good time, you support the local community as well!
Historic and religious sights around Arugam Bay
As in most parts of Sri Lanka, also around Arugam Bay, you will find many interesting historic and religious sights. All a bit out of town, but definitely worth a visit if you are looking for a change from the surf!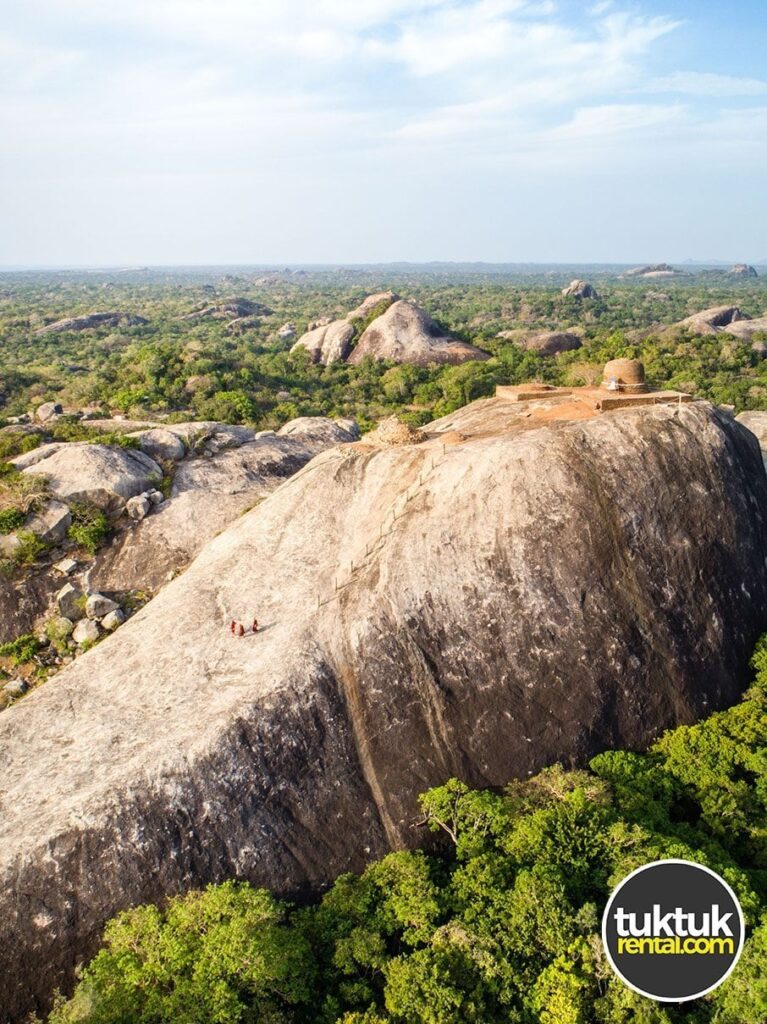 Kudumbigala Monestary
About 45 min south, just passed Panama in the Kudumbigala Sanctuary, you will find Kudumbigala Monastery. This monastic complex was built in 246 BC, during the time of King Devanampiyatissa. It was first built as a refuge for the Buddhist monks who wanted to get away from the busy cities. Now monks still inhabit the complex and you are able to visit it as well. There are many caves and paths to explore, but the highlight is definitely the view from the top of the large rock!
Muhudu Maha Vihara
Muhudu Maha Vihara is a Buddhist temple located right next to the beach in Pottuvil town, a short drive from Arugam Bay. Built over 2000 years ago what now remains are some great ruins and a big white stupa.
Tharulengala Rajamaha Viharaya
A little out of town, but well worth the drive as you have a chance to spot some elephants as well! Tharulengala Rajamaha Viharaya or Tharulengala Forest Hermitage built in the 2nd century BC on a 600+ feet rocky outcrop. Great views from the top and interesting ruins with wall paintings to be seen.
Where to eat in Arugam Bay
As more and more people are finding their way to the bay, so are the choices of restaurants and places to eat.
Some would even say it is a bit overcrowded, with every single building on the main road now calling themselves a restaurant – mostly with similar menus and overpriced local food. Always good to see what is out there, before you settle yourself somewhere to eat.
Tip: if you just want a simple Sri Lankan dish, we recommend getting into one of the real local restaurants in Pottuvil town. They still charge a bit more to foreigners, but much less than the local restaurants in Arugam Bay.
If you are looking for something else than your regular kottu, rice and curry or any other Sri Lankan orientated dish, then there are a few places that help you full-fill your hunger. We have listed a few of them, which we recommend you to check out!
Pizza Hub
The name already is amazing, we all know what it is derived from but its brilliantly found for Asian standards! Without a doubt the best wood-fired pizza in Arugam Bay, a great choice for meat-eaters but unfortunately for the vegetarians, there is not much choice (yet!). Check their website out, they are located off the main busy road in the village which makes the experience nicer as well. Best of all: they do delivery as well!
Hideaway
Fantastic place for people looking for a more western meal! A bit expensive for the average backpacker but still worth it! A mix of Pacific Rim cuisine with Mediterranean influences is how Hideaway describes their dishes. They have fresh fish every day and use organic ingredients where possible.
Tandoori Hut
For all the authentic Indian food lovers, head over to Tandoori Hut located just off the main road. Delicious, quality dishes with a great choice of vegetarian as well.
Hostels & Hotels in Arugam Bay
Just like the restaurants, the bay has also had immense growth in accommodation. Every season more and more hostels and hotels open up in the bay to try and win you over to stay there.
We have a made shortlist of a couple of places, a budget and a mid-range which we think you should definitely visit!
Hangover Hostel Arugam Bay
One of Sri Lanka's best hostel concepts, with properties near the Airport, Colombo city, Mirissa, Ella, Sigiriya and since 2019 also in Arugam Bay! Affordable clean rooms, close to the main road. A relaxing chill-out area and the hospitality you expect from a hostel!
You can make a booking directly through their website and get a special Hangover Hostel discount of 20% with promo-code "TukLife"!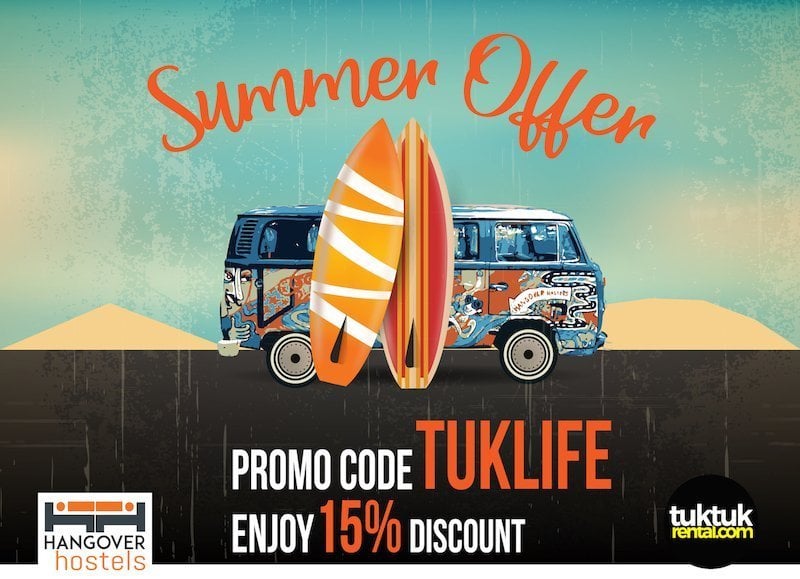 Arcadia Villa's
A hotel where guests can enjoy the harmony and splendour of nature during a stay in a harmonious and humble surrounding. The villas are located in a green garden setting, away from the busy main street but close enough to access the beach, restaurants and shops on foot. There are 8 AC or fan villas. Suitable for singles, doubles families and friends. A small on-site restaurant with great western food as well.
Standard Villa – $42
Superior Villa – $49
Villa with Garden View (family) – $55
You can call the owner Nyrie directly through +94767766066 and find them on the map here.
Find accommodation in Arugam Bay:
Nightlife in Arugam Bay
Over the years, nightlife has increased significantly. Where the beach parties in the early days were pretty limited, it was followed by a party at a different venue every single day of the week during the season!
But recently, due to political and religious reasons, the parties are again somewhat limited. However, from Thursday to Sunday you will find a decent party with smaller ones on other days in different locations.
Arugam Bay Beach Parties Schedule
Parties usually start at sundown, gets busy around 9 – 10 pm and can go on till sunrise!
Where to buy alcohol in Arugam Bay
Now here is the tricky part about Abay – only a very few places have a licence to sell alcohol legally! Due to this, your drinks can get a bit pricey and if you do not want to buy it at one of the bars (which is more expensive obviously) there are two liquor/beer/wine stores in Arugam Bay:
Subshi Beer Shop – right on the main road, opposite of Siam View.
Palm Grove Holiday Inn – just south off the main road.
Tip – If you are looking for beers, bottles and wines at normal rates. Your closest bet would be the village of Siyambalanduwa. There you will find New Sanath Wine Store and its about a 45min drive from Arugam Bay. Recommend getting all your mates together for the nights order and drive there to get it – saves you a lot of money!
How to get around in Arugam Bay
Getting to the bay is step one, the second is getting yourself around. Your hostel will be on the southern end, but your favourite restaurant in the north, one day you surf at Elephant Rock, the next day you head to Whiskey Point. All in all, there will be quite some travelling to do!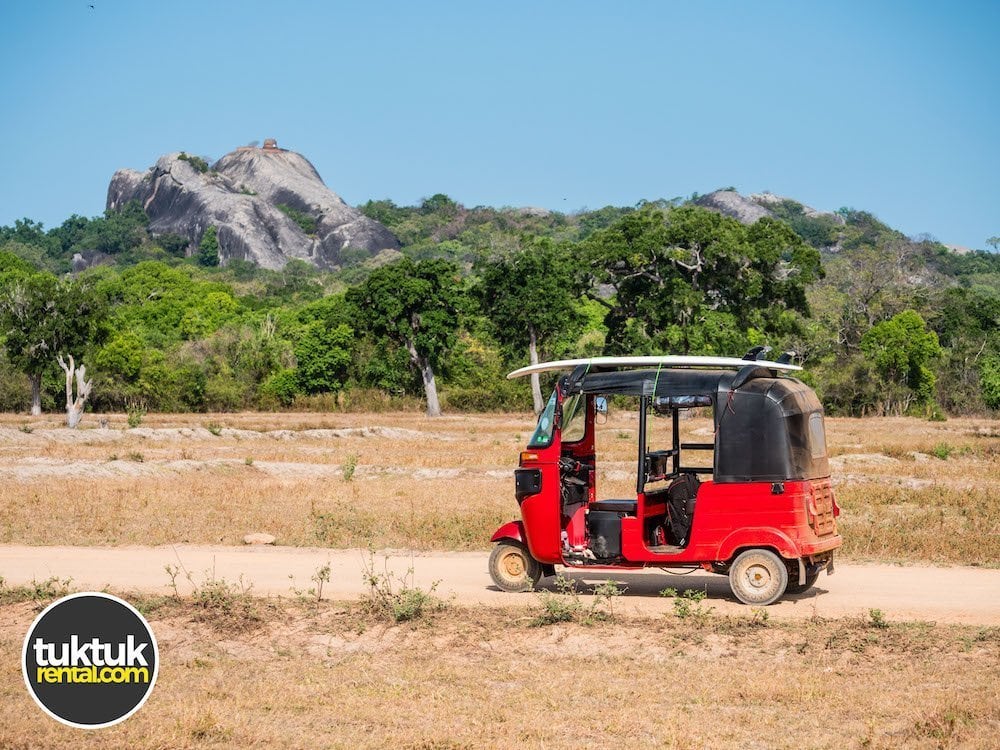 Please note, in order to drive legally in Sri Lanka, you need to have a special Sri Lankan Recognition Permit or a Temporary Licence. More information can be found here.
Be sure to rent from a provider that helps you obtain this document as well, without it, you are driving illegally, your insurance does not cover you, nor does the insurance of the vehicle you are renting. This can result in extremely high costs and you can go to jail for this.
Modes of transport
Bicycle – quite some accommodation also rent bikes, if not you will find rental places on the main road. Prices around 500LKR per day.
Scooter – the main mode of transport for the Arugam Bay traveller, rental places are commonly found and prices range from 1000LKR to 2000LKR depending on quality and duration.
Motorbike – enough places rent them, not always in the best shape though. Some of them have a board rack and prices vary from 3500LKR upwards per day. Note – need to have a special Sri Lankan licence to drive this.
Tuktuk – Sri Lanka is one of the few countries where you can rent and drive a tuktuk! Great fun experience and a unique way to travel. Also one of the best ways to travel in Arugam Bay, as there is space for your luggage and you strap surfboards to the roof. However, we always recommend renting from a reputable provider!
From June 2019 onwards, TukTuk Rental offers tuktuk rental services in Arugam Bay and they arrange a Sri Lankan Recognition Permit for you as well, 100% street legal! Contact them through hello@tuktukrental.com and let them know you need a tuktuk in Arugam Bay! (Special pick-up and drop-off deals applicable)