Do you want to come to Sri Lanka in 2021 following COVID in 2020? This article is for people looking to travel to Sri Lanka in 2021. It outlines the rules and regulations surrounding COVID and pandemic restrictions for travelers coming into Sri Lanka.
The Sri Lanka Tourism Development Authority (SLTDA) has put together an action plan with guidelines to make your trip to our paradise island a reality, we've summarised what you need to know here.
Summary
You will need to follow three basic steps to travel to Sri Lanka in 2021, they are:
Book a Level 1 Safe & Secure Hotel (S&S Hotel) for the first 14 days which includes mandatory PCR tests and insurance, they will inform the Sri Lanka Immigration Department. You can move between max 2 hotels in the first 14 days.
Apply for your Sri Lanka Tourist Visa online and add the hotel address + booking reference number.
Book your RETURN flight directly through the airline or a travel agent.
Guidelines on how to travel to Sri Lanka during the global pandemic
This information has been carefully curated through official sources as well as experiences from travelers who are already there!
Key points to note
No restrictive quarantine required!
No minimum number of days is required to stay, for example, you can stay in Sri Lanka for just 2 days if you wish.
Subject to a negative PCR test after arrival, guests will be able to use all facilities of the accommodation such as pools, dining areas etc. Obtaining the PCR test usually takes one day, so the first day you would be confined to your own room.
Tourists must stay at a certified S&S Hotel for the first 14 days of their stay.
During the first 14 days, you can move between 2 (two) S&S Hotels (refer to the list of hotels below).
During the first 14 days, you can also visit approved tourist sites under the safety of a bio-bubble.
Pay for PCR Tests (40 USD per PCR test depending on the number of days of the stay) when applying for a visa online and for insurance (12 USD) with one month cover of 50,000 USD.
You require a negative PCR test for your country of residence provided max 72 hours before departure.
Currently, even if you have been vaccinated the above safety protocols do not change.
Level 1 Safe & Secure Hotel, guesthouse, or villa
Tourists traveling to Sri Lanka are required to stay in ANY OF the certified S&S Hotels AND MAY MOVE FREELY BETWEEN TWO S&S HOTELS for their first 14 days before they are allowed to travel completely free to any hotel, guesthouse, homestay or hostel. After you have completed the first 14 days at the S&S Hotel period, you will be able to travel by car, tuktuk, or public transport and stay where ever you want for as long or as little as you want.
The level 1 Safe & Secure Hotel will charge you for mandatory PCR tests (3 if you are staying for 2 weeks or more) and the mandatory covid insurance ($12 per person) that is valid for 1 month. Get in contact with the hotels directly (not through online portals like booking.com) as otherwise, the booking is not valid as it doesn't include the mandatory PCR tests.
An updated list of accommodations can be found here.
Sri Lanka Tourist Visa
To get your Sri Lanka Tourist Visa, you need: 
Book a Level 1 Safe & Secure Hotel.
Book Return Flights.
Once you have the booking confirmation, you can apply for the Sri Lanka Tourist Visa. It is important to enter the hotel name and booking confirmation in the field that says "Address in Sri Lanka" and also add your hotel booking reference number. The tourist visa is valid for 30 days, but you can extend it at a later stage for another 90 days and we expect even longer!
Due to the influx of people trying to get into the country, some delays in the visa process can be expected. After you book your hotel (Level 1 Safe & Secure) it is their obligation to inform the Sri Lankan Tourism Development Authority who will then inform the Sri Lankan Department of Immigration.
UPDATE ON 17th JULY 2021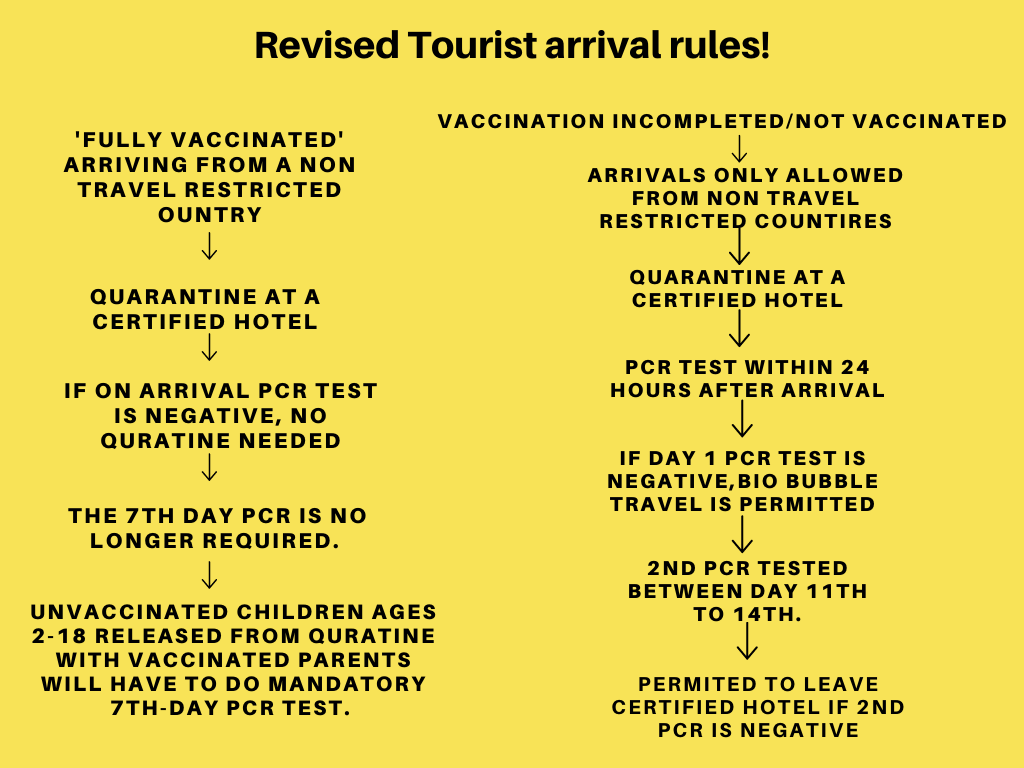 Travellers with any history of travelling (including transits) from the below countries within the past 14 days are not permitted to disembark in Sri Lanka until further notice.
NOTE: India, South American countries, South African countires (South Africa, Angola, Botswana, Lesotho, Mozambique, Namibia, Swaziland, Zambia, Zimbabwe).
UPDATE ON 23rd JUNE 2021
Passenger flights are allowed to enter Sri Lanka from the 1st of June, all passengers are subjected to a 14 day quarantine period at a safe and secure level 1 hotel, regardless if they are vaccinated or not. Visiting, assigned attractions can only be done via a bio bubble organized by the level 1 hotel.
UPDATE ON 19th MAY 2021
All passenger flights to Sri Lanka will be suspended from 21st May until 31st May. This measure is taken in order to control the COVID-19 situation in the country.
UPDATE ON 07th APRIL 2021
The government announced that they have decided to relax the quarantine measures even further for tourists arriving in Sri Lanka.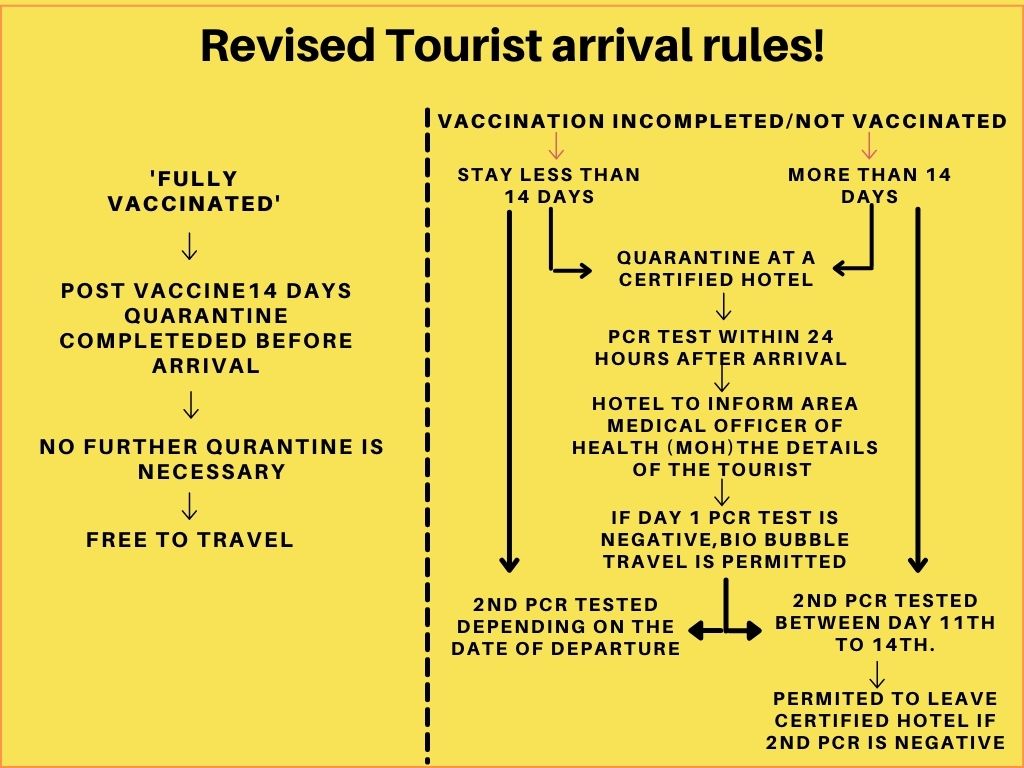 If you have already completed the required vaccination dose and post 14 days quarantine before arriving and also if your Day 01 PCR test is negative, you are now free to travel in Sri Lanka without further quarantine.


If you have not been vaccinated or fully completed your required dose of vaccine nor the 14 days of post quarantine before arrival, you will be subjected to quarantine in Sri Lanka for 14 days. If the second PCR test comes in negative you are allowed to leave the certified hotel travel freely.
To speed up the process, you can also email your hotel reservation and all details of people needing a visa to dg@srilanka.travel and achinislcb@srilanka.travel from the SLTDA.
UPDATE ON 10th FEBRUARY 2021
The government has relaxed rules for holders of Tourist visas and Foreign Passport holders with valid residence visas.
The updated rules are:
No prior approval needed from the CAASL (Civil Aviation and )needed for flights operating to Sri Lanka with the above type of passengers.
Not subject to a mandatory minimum stay as stated previously.
Booking your flights
Book your flights directly through the airline directly through their call center or contact their local office (online booked flights often get changed and cancelled).
Airlines currently flying to Sri Lanka during Corona
Sri Lankan Airlines
Qatar Airways
Emirates
Etihad Airways
China Eastern Airline
Singapore Airlines
Oman Air
Air India
Kuwait Air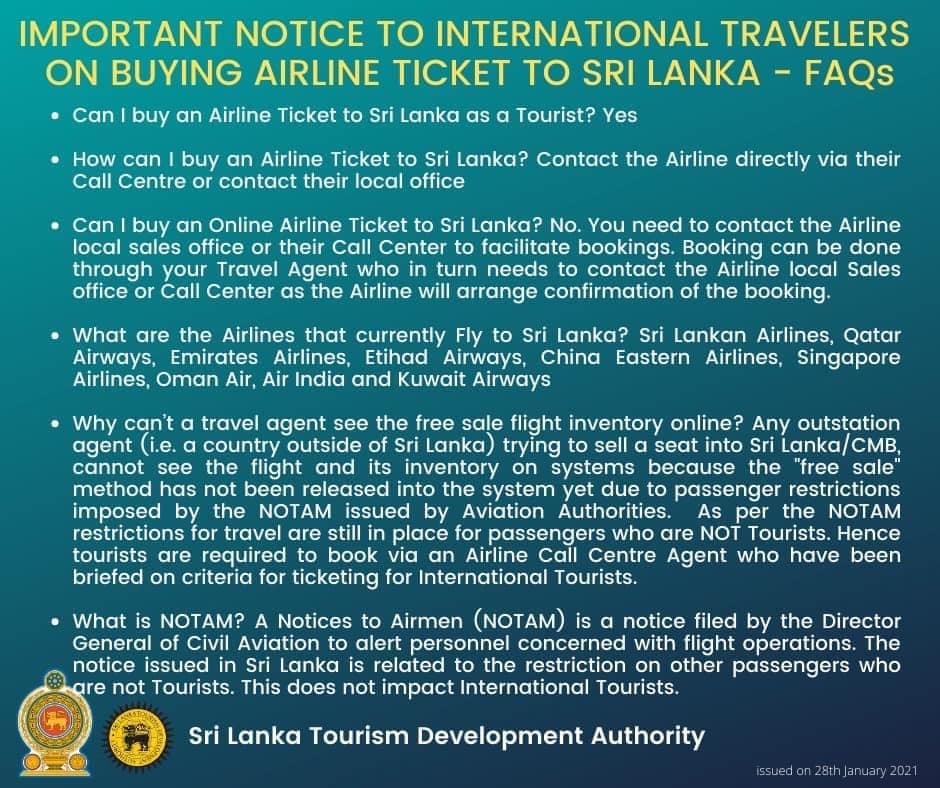 Health Declaration Form
A completed Health Declaration A Form (HDF) should also be submitted on arrival at the airport Health Counters. These HDFs will be given prior to boarding, on-board the flight, or upon arrival. It can also be downloaded here.
Return Flight
In order to get your visa, you need to have a return flight. Your return or onward flight could be any date within 6 months and it doesn't have to be within 1 to 3 months.
Booking through a Travel Agent
Travel Agents registered with the Sri Lanka Tourism Development Authority can handle all these steps for your travel to Sri Lanka as well. For many, this saves some hassle. A list of travel agents that are Safe & Secure can be found here.
Tourist sights which can be visited within the 14-day bio-bubble
DEPARTMENT
SITE
CONTACT
TIMES
Forest Department
Sinharaja Forest Reserve
Mrs. Uthpala Kalansooriya 071-839 95 99
Any week of the day
Department of Wildlife Conservation
Yala, Udawalawe, Eth Athurusevana, Kaudulla, Wilpattu, Mirissa Whale Watching
Mr. Manjula Amerarathna manjulawildlife@gmail.com
Director PA Management
0714428858
Any weekday 6.00 am to 6.00 pm – Arrival of tour groups with advance notice
Central Cultural Fund
Sigiriya, Anuradhapura (excluding Sri Maha Bodhi), Polonnaruwa Ancient City,
Mr. Upul Bandaranayake 0711398398 directorinterccf@gmail.com
6.30 am to 5.30 pm Fresco cave max.8 at a time Museum 60 tourists max. at a time
Department of National Botanical Gardens
Royal Botanic Garden-Peradeniya
Dr.Achala Attanayake – Director achala.attanayake@gmail.c om 071- 489 06 93
8.00 am to 5.00 pm Visitors will be received in batches- one batch at a time & Visitors are encouraged to bring their own water bottles
Laksala
Laksala Kandy
Mr. Kelum Jayawardena Director Sales 0779712198 Kandy Mr.Bandula Senevirathne Showroom Manager 071-452 18 66
Any week day
Special Attractions
Temple of the Tooth Relic
Mr. Krishantha Hissella 0773424503 krishantha@sridaladama ligawa.lk krishantha@sera.lk
Any week day 11.30 am to 1.30 pm Tourist-owned footwear should be placed in polythene covers in the proper hygienic procedures in the shoe counter reserved for foreign tourists and placed the footwear themselves in the given basket.
What to do after the first 14 days?
You've got plenty of options here but obviously, we think the best one is renting a tuktuk! Being confined to mandatory hotels and limited mainstream tourist sights, it's time to explore the unknown in an authentic three-wheeled chariot of Asia!
We are a social business that doesn't own any tuktuks. In fact, we source all of our tuktuks from local tuktuk drivers who have some of the lowest salaries in the country. As you can understand, the economic downfall due to the corona crisis has bought about drastic effects on these people tremendously! So by renting a tuktuk, you will directly be contributing to the livelihood of a local family who really can use your help.
tuktukrental.com value proposition
Quality tuktuks rented from locals to boost their income
Comprehensive insurance covering ALL parties
Locally & Internationally approved licenses ready for your arrival
Comprehensive Driving Lesson in English
On-the-road travel kit
100% Carbon Neutral (we offset all km's)
Repair costs covered by tuktukrental.com while you're on the road
Unlimited km's
Pickup and dropoff locations ALL across the island
Easy online payment options and digital deposit refund (PayPal or credit card)
More information can be found here, get in touch with us directly through here.
Adventure Platform
All of our customers get access to a digital "Adventure Platform" that links you with; other travelers driving a tuktuk in Sri Lanka, hidden gems, local experiences, and off-the-beaten-track adventures all over the island, as well as our team of experts and tuktuk mechanics!
We've got a map with over 500 unique points to making use of your adventure after the first 14-days, in one to remember. Making sure you experience the real and authentic Sri Lanka!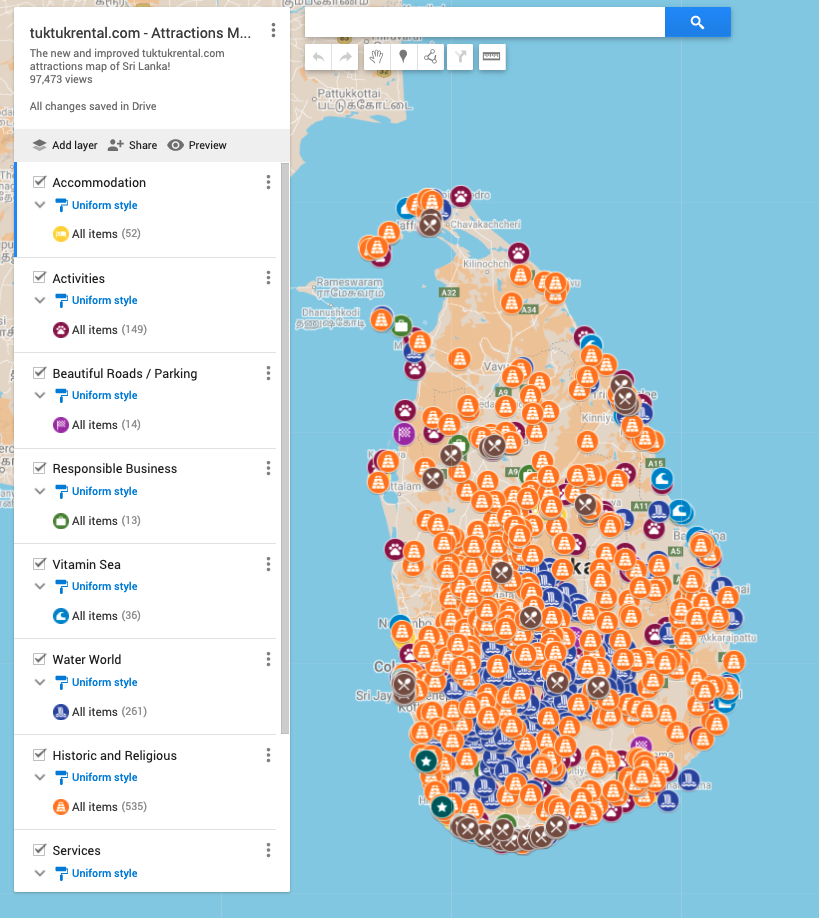 Travellers Experiences
Hello everyone, as requested I'll try to describe my experience as best I can and hope it's helpful. I flew from Frankfurt to Sri Lanka on 21st January 2021. in compliance with the regulations for tourists. It went as described in the regulations:
1. I booked a hotel level 1 directly through the hotel. Make sure to book the PCR tests, transport, and insurance through the hotel as well. My experience is that the hotels are prepared and take this into account. I paid for this part directly with my credit card. The rest was paid on arrival. With the confirmation of the booking, you will receive a reference number which you will need when applying for the visa.
2. You can now apply for the visa online (only available for 30 days at this time, the application has not yet been adjusted). In the field 'Address in Sri Lanka' you have to enter the reference number you received from the hotel. A reply that your application is being processed will follow immediately by email. Your ETA reference number is already entered here. The visa was confirmed the next day (for 30 days).
3. You can then book your flight with this ETA number. I couldn't book a flight without an ETA number. It is also necessary to book a return flight. One way is not possible for tourists. The Sri Lankan Embassy in Germany had made an appeal and asked who would like to be on the first flight. So our data was already recorded and sent to Sri Lankan Airlines. I could only book the flight itself directly with the airline by phone. This flight was not visible online. But I think Sri Lankan Airlines has now officially opened the route.
4. At the check-in at the airport you have to show the PCR test. After that, everything went on normally. On the plane, we all sat quite close to each other and were not allowed to change our seats freely.
5. On arrival, everything was well prepared and everything went quite quickly. But we were also only a small group (14 tourists and a few locals) who arrived on this first flight. We were able to leave the plane quickly. When we disembarked, our bags, hands, and shoes were disinfected first. Then the groups of tourists and repats were separated. First, the health declaration was checked (the form is handed out on the plane). Then we went directly to the immigration point. The visa could only be issued for 30 days. According to the information there, there are no other stamps at the airport. The embassy in Germany had told us that the visa would be issued at the airport directly for 90 days. But that was not the case. However, it should not be a problem to extend the visa on the spot in Sri Lanka.
6. After immigration, we were able to shop in the duty-free area. Our luggage stickers were collected directly at the escalator. We then waited in a lounge (with coffee/tea and snacks). When our group was complete, we could leave the room. Our luggage was already prepared on luggage trolleys, so we could go directly to the arrivals hall. Here our drivers were waiting for us for the transfer to the hotel. There were also people from the Tourism Board on-site to welcome us and answer our questions. In the arrivals hall, it is possible to change money, buy/charge phone cards, etc.
7. The first PCR test was done on arrival at the hotel. After that, I could move into my room. I am allowed to use everything in the hotel. The only restriction was that I couldn't use the pool on the first day. But better check this with your Hotel. I'm in touch with the others who arrived at the same time. The Hotels handle this differently.
8. I can't say anything about excursions, as I will only be staying in the hotel for the 14th day.
All in all, everything went without a hitch. Everyone here is very eager and happy about our arrival 🙂 I hope I haven't forgotten anything.
Claudia from Germany
Frequently Asked Questions
When will the Sri Lanka airport reopen
for travellers?
From 21st January 2021
Is there a mandatory minimum stay
No. You can even visit Sri Lanka for 3 to 4 days.
Is there a 14-day quarantine?
No. However, you have to stay within the Safe & Secure Hotel Network and Attractions Bio-Bubble for the first 14 days. 
How do I apply for a visa?
All visas must be applied online through the Immigration ETA portal. Before you apply for your visa, you need to have a confirmed hotel booking, pre-purchased PCR tests and a mandatory COVID-19 Insurance Cover paid for through your 'Safe and Secure Level 1' hotel when making your booking.
The hotel will issue a reference number which you need to
include in your visa form under the section 'contact details'. There you will be asked for 'address in Sri Lanka' under which you need to indicate your hotel name, address and the reference number issued.
Can tourists from any country come to Sri Lanka?
People from all countries are welcome unless otherwise
specified. Currently due to the prevailing health situation
visitors from the UK will have a restriction. Email
info@srilanka.travel for further information on this.
Do I need COVID-19 insurance?
Yes, you will need to pay USD 12 for a 1 month cover of
USD 50,000 offered by People's Insurance PLC and it is a
mandatory requirement when applying for your visa.
How much is the USD 50,000 cover for one month?
USD 12.
How can I apply for the mandatory COVID-19 insurance cover?
Pay your COVID-19 insurance premium of USD 12 to your 'Certified Safe and Secure Level 1 hotel' when you are making your hotel booking. They will issue you a reference number (once paid for both Insurance and PCR tests), which you will need to process your visa. Going forward this payment will be facilitated through the tourism mobile app, 'Visit Sri Lanka'.
Do I have need a COVID-19 insurance cover if I stay beyond 30 days?
Yes. You pay USD 12 initially for a 30 day COVID-19 insurance cover of USD 50,000, which is a mandatory requirement. However if your stay exceeds 30 days, you should extend your insurance cover by calling 1912
Should I provide a Health Declaration Form?
Yes. The completed Health Declaration Form (HDF) should also be submitted on arrival at the airport Health Counters. These HDFs will be given prior to boarding, on-board the flight or upon arrival. It can also be downloaded here.
If I am vaccinated, do I still need to follow the safety protocol?
Yes. Currently no exceptions would be made for vaccinations taken; all safety protocols should be adhered to regardless.
If I am vaccinated, do I still need to do PCR tests on arrival?
Yes. Currently no exceptions would be made for vaccinations taken; all safety protocols should be adhered to regardless.
Where can I find the list of 'Safe & Secure' Certified hotels?
Visit www.srilanka.travel/helloagain for an updated list! You can also look at the interactive map here. 
What is a 'Safe & Secure' Certified hotel?
These are hotels or accommodation providers who comply with the COVID-19 Health Protocols and the Tourism Operational Guidelines. The hotels have been subjected to an audit by an independent firm and will be continually assessed. The 'Safe & Secure' certificate is issued with a QR code unique to each certified hotel. By scanning the QR code using a smartphone, visitors can not only check the key information of the certified hotel but also immediately report to Sri Lanka Tourism of any violations related to the guideline procedures with photo evidence. Sri Lanka Tourism believes this certification will serve as a mark of trust, safety and assurance to all international guests. Hotels with the certification are encouraged to display the certificate with the QR code that can be easily accessed by all guests.
What is a Level 1 'Safe & Secure' Certified hotel?
From all the 'Safe & Secure' Certified hotels, these are the accommodation service providers who will provide accommodation services exclusively for international tourists during the first 14 days of their stay. The level 1 hotels cannot accept bookings from locals and also are not allowed to hold any events or banquet functions for locals.
Can I stay in an Ayurveda Treatment Hotel or a Wellness facility?
There is no restriction as long as your selected facility/hotel is a Level 1 'Safe & Secure' Certified hotel for your first 14 days. Afterwards you are free to stay where you like.
Can I use all the hotel facilities?
Yes. Visitors can use all hotel facilities including gym, swimming pool, spa, etc.
Can I stay longer than 14 days in the same hotel?
Yes.
Can I change hotels?
Yes. In the first 14 days of your stay, you can change hotels provided they are 'Safe & Secure' Certified Level 1 hotels; After 14 days, you can move to any hotel despite of the fact that they are Level 1 'Safe & Secure' Certified or not.
Can I visit tourist attractions and sites in Sri Lanka?
Yes, tourists can visit up to 14 approved tourist sites under the safety of a bio bubble. Please see the list of sights above.
Can I visit other places on my own, after 14 days ?
Yes, you can.
Can I use public transportation during my visit?
In the initial 14 days you will not be permitted to use public transportation and even thereafter, the use of public transportation is discouraged.
Do I need to pre-purchase PCR tests before I arrive?
Yes, all travellers need to pre-purchase A PCR tests depending on the length of their stay. This is a mandatory requirement for your visa process as well. The first PCR tests would be on-arrival at your hotel; prior to check-in. The second PCR test would be conducted 5-7 days after, or if any symptoms should develop before. If your stay is for 7 days, you pay for 2 PCR tests. If you stay exceeds 7 days you have to purchase 3 PCR tests. Each PCR test is priced at USD 40 and your accommodation will arrange this for you!
From where can I get my PCR done after arrival?
It will be arranged by your Level 1 'Safe and Secure' Certified accommodation. Test will be performed by a private sector laboratory approved by the Ministry of Health.
Where am I allowed to do my PCR before arrival?
Travellers should undergo a PCR test from an accredited laboratory and obtain a negative result, within 96 hours before boarding their flight. This is a mandatory requirement and needs to be re-confirmed with the relevant airline.
Will there be a dedicated medical officer for each hotel?
Yes. There will be an appointed medical officer in each of the 'Safe and Secure' Certified hotels including the Level 1 hotels.
What happens if someone is tested positive for COVID-19 with symptoms?
Your Level 1 'Safe & Secure' Certified hotel in consultation with the hotel doctor/local health authorities, will admit you to a Private Hospital approved by the Ministry of Health; Your COVID-19 Insurance cover will reimburse hospital charges including the ambulance transfer fees up to USD 50,000 for a month.
What happens if someone is COVID-19 positive and non-symptomatic?
Non-symptomatic COVID-19 positive persons will be quarantined in an isolated area in the same hotel, under strict supervision of the hotel doctor and local health authorities. In case there is a need to transfer them to a private hospital at any stage, the COVID-19 Insurance cover will reimburse hospital charges including the ambulance transfer fees up to $ 50,000 for a month.
What happens to the close contacts and exposed guests in case someone is tested positive for COVID-19?
They will be kept under quarantine in an isolated area in the same hotel, under the strict supervision and administration of the hotel doctor and local health authorities. However, based on the decision of the hotel doctor/local health authorities, if they are sent to a quarantine hotel/center or a pre-arranged Private Hospital, the COVID-19 Insurance will reimburse relevant charges including the ambulance transfer of up to USD 50,000 for a month.
What if I get sick other than COVID-19?
Medical officer at your hotel will decide what to do accordingly and the cost of the treatment/s should be covered via the patient's own personal medical insurance. This will NOT be covered by the COVID-19 insurance cover.
Can I meet the local community within 14 days if my PCR is negative?
No. During the initial 14 days of your stay you are not permitted to mix with the community. However, within the bio-bubble for you to visit multiple sites in Sri Lanka. This will protect you as well as the community, while ensuring you have a great time. Please do your part not to break the bubble, as after 14 days you can go into the local community.
Are any locals allowed to the Level 1 'Safe & Secure' Certified Hotels?
Hotel guests will not be allowed to entertain locals nor have any functions that encourage the same, during the 14- day period where the Level 1 Certified 'Safe & Secure' hotel functions exclusively for international tourists.
Can hotel staff leave the hotel at any time?
No. All staff interacting with guests will not be allowed to leave the hotel staff accommodation until 14 days of quarantine and negative PCR/antigen test, as decided by the hotel doctor, is completed.
Is there a risk assessment of the hotel staff?
Yes. All staff will be subjected to proper risk assessment under the guidance of the hotel doctor and the area Medical Officer of Health.
Should hotel staff be screened for COVID-19?
Yes. Staff will be screened for COVID-19 at regular intervals as per the existing Occupational Health Guidelines published by the Ministry of Health.
Should the people accompanying the tourists undergo quarantine?
All personnel accompanying the tourists; including tour guides, safari jeep drivers, bus drivers, other drivers, assistants and translators, unless attending in full PPE, should undergo a 14-day quarantine under the supervision of the local health authority, with the inclusion of PCR testing.
What is the daily PCR testing capacity for tourists?
It is 2,500 tests per day as at 13th January 2021, but this will be increased to 3,300 per day in the coming weeks.
Can dual citizens follow the tourism route?
Yes. Dual citizens, spouses of foreign nationals and paid commercial passengers with foreign passports are allowed under the tourism route with no quarantine, following adherence to the guidelines and protocols in place.